Intel plans to release a version of its Atom processor early next year that's designed for ultra-thin netbooks and tablet computers.
Called Oak Trail, the upcoming chip package is a variant of the Moorestown package released in May. The two products both include the low-power Lincroft version of the Atom processor. The only difference is that Oak Trail's version of the Langwell chipset includes support for various input-output types used in PCs.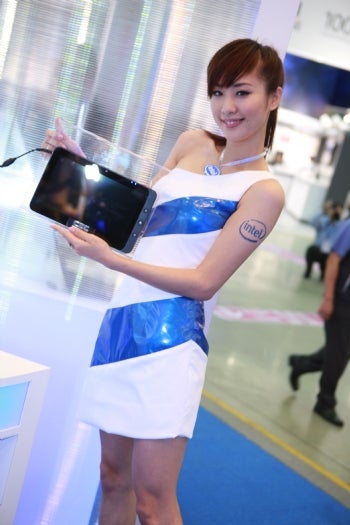 "It's taking the power optimization of Moorestown, which was targeted at pocketable devices including phones, leveraging that investment of Intel's and adding on to it 'port-of-choice' capabilities so that we can support a Windows operating system, a Meego operating system, other PC Linux operating systems, or Google OSes, as the market need develops," said Matthew Parker, general manager of Intel's Atom client division.
The main focus of Oak Trail is to reduce power consumption and enable thinner form factors for netbooks and tablets, Parket said. Specific details of Oak Trail, such as clock frequencies for the processor, were not available.
"What you'll see is a performance envelope for the products that span from tablet to the sleek netbook that may or may not overlap with the performance envelope of the mainstream netbook and dual-core netbook," Parker said.
While Intel will be talking about Oak Trail during Computex, the chips themselves won't be on display. With Oak Trail scheduled for release during early 2011, Intel has not yet started to provide hardware makers with samples of the chips, he said.