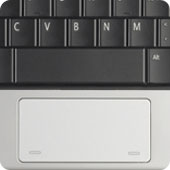 As many of you know, the Mac trackpad is superior to many PC trackpads. Apple's pad has been in development for more than 16 years, since its Powerbook 500 series. This has given Apple quite the jump ahead of other developers. However, Synaptics is challenging the Mac's pad, starting today!
If you're familiar with the Mac trackpad, it has many features that others (but not all) don't — including drag lock, two-finger scroll and click, multitouch gestures (including zoom in and out), rotating images, swipe navigation, and ignoring accidental trackpad input. Now the new Synaptics trackpad offers much of that, and then some.
Synaptics is demonstrating its newest touch technology branded as TouchPad-IS at COMPUTEX 2010. The company claims is the first "fully capable, multi-finger PC touchpad. The new touchpad can accurately recognize four-finger gestures and demonstrate demonstrate Synaptics SmartSense technology, which prevents activation of the cursor when you accidentally touch it.
The TouchPad-IS also doesn't require the use of buttons for right- and left-click. Says Synaptics:
"In addition, the new Synaptics ClickPad features ClickSmart technology, which enables users to control the left and right button commands on their ClickPad universally. Users and OEMs are not burdened with having to select click usage behaviors. ClickSmart provides a new "universal" support mode that accommodates both traditional and modern user click behaviors."
In addition, the new touch pad series include new gesture capabilities in the Synaptics Gesture Suite and updated Synaptics Scrybe gesture workflow technology. You can also save personal preferences in user profiles.
No one knows yet when this will be available in PC products; however, Synaptics is sure bridging the gap between Mac and PC trackpads.
[Via Gizmodo]