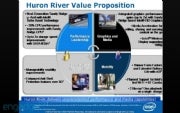 It appears that Apple isn't the only one dealing with product leaks. On May 30, Engadget stumbled across a roadmap with the specs for the entire fall collection of mobile chips from Intel.
The roadmap (click on the image to enlarge it) mentions the i5 and i7 processors officially released last week. The roadmap also reveals that the fourth quarter will bring us the following dual cores: the 2.66GHz Core i5-580M (which turbos to 3.33 GHz), the Core i7-740QM/840QM, the 2.8GHz Core i7-640M and the 2.66GHz Core i5-560M. The i7-640M turbos to 3.46 GHz and the i5-560M to 3.2GHz.
On top of the dual core chips, Intel will also bring higher efficiency chips, meaning that your mobile device will save energy and last longer. These are the 1.46GHz Core i7-680UM (turbos up to 2.53GHz) and a 1.33GHz Core i5-560UM (turbos to 2.13GHz). There will also be a 25W Core i7-660LM that clocks in at 2.26GHz.
Engadget also reports that these new dual-cores will have on-die Intel HD Graphics. And in 2011, Intel will bring us WiMAX, WiDi, Intel Bluetooth and a new power-saving sleep mode called Zero Power ODD.
[Via Engadget]