Everybody loves Gmail, right? Wrong. A friend of mine is so fed up with its "threaded" conversation view, he's ready to jump ship for Hotmail, Yahoo, or another service.
I can't say I blame him. Call me a traditionalist, but I despise the way Gmail groups conversations–especially when they're lengthy and/or involve multiple people.
Thankfully, just because Gmail is a Web-based mail service doesn't mean you have to use your Web browser to access it. Instead, you can do what I do and connect to Gmail using familiar desktop software: Outlook, Windows Live Mail (formerly Outlook Express), Thunderbird, or the like.
Programs like these let you not only group and view e-mail conversations using whatever method you like best, but also organize mail into folders–something Gmail proper still doesn't offer.
Making this move doesn't permanently alter anything about your Gmail account. You'll still be able to sign in using any Web browser on any PC–one of Gmail's most compelling benefits. The desktop software simply affords you a more attractive, more intuitive "front end" for your day-to-day mail operations.
If you don't already have such a program, I recommend Microsoft's Windows Live Mail. It's easy to set up and use, and it offers worthwhile features like dynamic search and Web-calendar syncing.
Google has simple instructions on configuring Windows Live Mail for use with Gmail, so I won't rehash them here.
Use Gmail IMAP with Your E-Mail Client
Working with Gmail can be a lot nicer if you use a desktop e-mail program instead of Gmail's Web-based interface.
A key question that remains is whether to use the POP or IMAP setting to fetch your messages from your Gmail account.
I won't bore you with lengthy descriptions of each. In a nutshell, POP downloads a copy of each e-mail to your PC, leaving the original on Gmail's servers. It's a one-way transaction. IMAP, on the other hand, provides a live, two-way connection between your mail program and Gmail.
Why is that important? Basically, because it effectively keeps all your mail in sync regardless of where you check it–important if you routinely use, say, a second PC or a smartphone.
Let's use the latter as an example. Say you have your Gmail account configured for POP. Using your desktop mail program, you download and read your latest messages, reply to a few, delete others, etc.
A while later, while out and about, you use your phone to check your messages. Every mail that you previously read, replied to, deleted, etc. shows up as new and unread. Why? Because there was no synchronization between your PC and Gmail. Thanks to POP, your phone did exactly what your computer did: downloaded any mail that arrived since the last time you checked and flagged it all as new.
That's why I'm a big fan of IMAP. It keeps all my Gmail in sync wherever I go and on whatever computer or device I use to access it. You can learn more about Gmail IMAP from Google's help pages.
Ready to give it a try? Here's how:
Log in to your Gmail account, then click the Settings link at the top.
Click the Forwarding and POP/IMAP link, select Enable IMAP, and then click Save Changes.
Click the Configuration Instructions link to learn how to set up your e-mail client to access Gmail via IMAP. (You'll need to make a couple small changes if it's already configured for POP.)
Now you're using Gmail like a power user!
Use IE8 to Access Multiple Gmail Accounts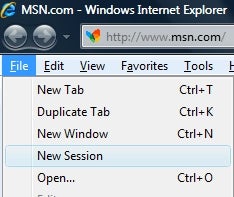 Here's a little-known advantage to using Internet Explorer 8: It lets you access multiple Gmail accounts simultaneously and independently.
This is accomplished via the New Session option, which makes it possible to log onto Web sites that track your identity across different tabs–like Gmail.
In Firefox, for instance, you can't have multiple Gmail accounts open in multiple tabs or Windows. If you sign into a second one, you'll get signed out of the first one when you try to do anything.
Here's how to take advantage of this IE8 perk:
Run IE8 and open Gmail. Make sure the "Remember Me" option is unchecked when you sign in.
Press Alt-F, I, and then hit Enter. This will open a new Internet Explorer session (which for all intents and purposes is the same as a new IE window).
Open Gmail and sign into your second account, again making sure to uncheck "Remember Me."
That's all there is to it! This should work with other Webmail accounts and services that don't like multiple sessions running simultaneously
If you've got a hassle that needs solving, send it my way. I can't promise a response, but I'll definitely read every e-mail I get–and do my best to address at least some of them in the PCWorld Hassle-Free PC blog . My 411: hasslefree@pcworld.com . You can also sign up to have the Hassle-Free PC newsletter e-mailed to you each week .