Nuance PDF Reader is a simple, straightforward free PDF reader with a twist–it does the best job of any PDF program I've tried at converting PDF files to Word, Excel or WordPerfect files. For that alone, this free program is well worth the download.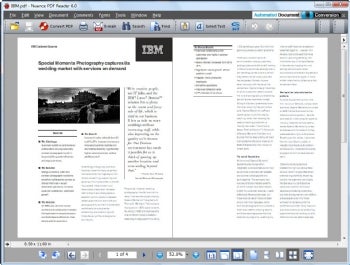 Every other program I've tried places paragraph returns at the end of lines when converting PDF to Word or text files, which means that even after the conversion, you'll have to spend a fair amount of time hunting down and deleting unnecessary paragraph returns if you want to edit or re-used the text in the document. Not so with Nuance PDF Reader. Even in documents with complex layouts, it only very occasionally puts in a stray paragraph return.
The conversion doesn't happen in the program itself. Rather, you open a PDF file, tell Nuance PDF Reader you want to do the conversion, and the program sends the file to a Nuance server, which performs the conversion and sends you the file via e-mail.
You don't actually need Nuance PDF Reader to do that kind of PDF conversion, though. You can instead visit www.nuancepdf.com and upload your file directly. It's certainly more convenient to do it within the program, but it's not required.