It looks like Microsoft isn't too pleased with Tuesday's rumors that Google will stop using Windows internally due to security vulnerabilities in the OS. Google reportedly will switch to more secure operating systems, including the Mac OS, Linux, and Google's upcoming Chrome OS, according to the Financial Times.
Microsoft's response: Our security is better than you think, and yours really isn't so great if you look closely enough.
A Tuesday post on The Windows Blog by Microsoft's Brandon LeBlanc defends Redmond's honor in the ongoing security debate. He asserts that when it comes to thwarting malware, Microsoft has stepped up its once sorry game.
"When it comes to security, even hackers admit we're doing a better job making our products more secure than anyone else. And it's not just the hackers; third party influentials and industry leaders like Cisco tell us regularly that our focus and investment continues to surpass others," LeBlanc writes.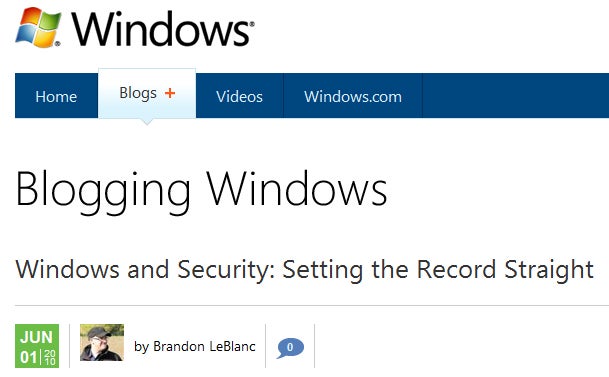 Microsoft's more recent security improvements include frequent software updates via Windows Update and Microsoft Update, many of which are pushed to users automatically; BitLocker disc encryption improvements in Windows 7; and various security enhancements in Internet Explorer 8, including the SmartScreen filter to thwart malware and phishing attempts online.
Google, Apple Diss
LeBlanc also accuses Google of being a tad hypocritical about security. He links to a Mashable story from March that states that Yale University had delayed switching to Google's Gmail due to security concerns. "There is some irony here that is hard to overlook," he writes.
Apple gets the treatment too. LeBlanc points to an InfoWorld article that discusses how the Mac's growing popularity may make it (and other Apple devices) more appealing targets for hackers.
LeBlanc's points are valid, and certainly no operating system is 100-percent secure. And it's also possible that Google's alleged plan to dump Windows internally–a report that didn't originate from an official company source–may be a sneaky PR stunt to trumpet the security strengths of Google's Windows competitors, Android and Chrome.
That said, Microsoft has no one to blame but itself for its bad security rap. Indeed, past versions of Windows and Internet Explorer were a hacker's dream. And even if Redmond has changed its security-deficient ways, its competitors are bound to exploit its malware-friendly image.