Nitro PDF Reader (free) is the most powerful free PDF reading and creation tool you can find, performing many tasks usually only available in for-pay PDF tools. As a PDF reader, it's lighting fast. For example, it opened a 174-page graphics-heavy PDF nearly instantly–faster than any other PDF reader I've tried, including FoxIt Reader, Nuance PDF Reader, and Adobe's own PDF reader, among others. It lets you search, zoom in and out, rotate pages, and more, pretty much everything that you'd expect from a PDF reader.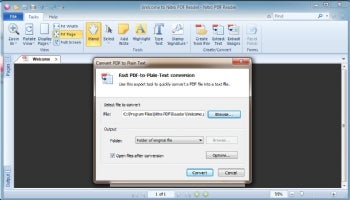 It does more as well. You can add notes, highlight text, type text into a text box, insert a signature into a PDF and much more, including commenting on other people's notes. Nitro PDF also does a very nice job of extracting text and images from PDF files. The program will even take a form scanned in via a scanner as a PDF file and let you type directly on the PDF form.
If you're looking for a free PDF tool, Nitro PDF Reader is the one to get.