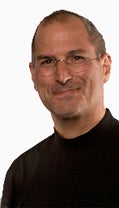 Apple CEO Steve Jobs used the D8 Conference on Tuesday to air his views on a variety of issues, including Adobe Flash, Google, AT&T, and the next-gen iPhone controversy. In a Q&A with audience members and an interview with the Wall Street Journal , Jobs spoke his mind. The comments come just days before the start of Apple's Worldwide Developers Conference, when Apple is expected to announce during a new iPhone as well as further details about the upcoming iPhone OS 4.0.
Here are some of the highlights:
On Google and Apple
A lot has been made in recent months about the 'frenemy' status between Google and Apple. This was apparent during Google's recent I/O developer conference, where the search giant made a few jokes at Apple's expense when comparing the closed platform approach of the iPhone OS versus Google's open approach with the Android OS.
Jobs told Mossberg and Swisher that he doesn't see Apple as engaged in a platform war with competitors like Google. When asked about Apple's ongoing competition with Google, Jobs said, "just because we're competing with somebody doesn't mean we have to be rude." Which may have been a response to Google's recent jabs during Google I/O.
TV is Balkanized
During the audience Q&A with Jobs at D8, the Apple chief was asked about television and whether TV needed a new interface "to make television truly interactive."
Jobs said that the television market is not ripe for innovation, because "nobody is willing to buy a set-top box." Jobs' rationale for that statement is that since cable makers offer their own DVRs and other set-top boxes for free or a small monthly fee, third-parties have a tough time breaking into the television market.
Jobs also said the TV market was very balkanized and was absent any standards, like GSM for cell phones, that make it possible to create one product that can be distributed around the world.
Jobs and AT&T
Another issue that came up during the audience Q&A was the iPhone and AT&T. An audience member from Houston said that while he didn't have problems with data speeds on AT&T's network, he complained of AT&T's call quality and reliability.
Responding to complaints over AT&T, Jobs said that he's been told that AT&T's network will start to improve in a lot of different places across the country by the end of the summer.
Gizmodo and Extortion
Jobs was unapologetic about Apple's decision to pursue legal action against gadget blog Gizmodo over the leaked iPhone scandal . "I got a lot of advice from people that said, 'you've gotta just let it slide..You shouldn't go after a journalist because they bought stolen property and they tried to extort you'…I ended up concluding that the worst thing that could possibly happen..is if we [Apple] change our core values and start letting it slide. I can't do that; I'd rather quit," Jobs told Mossberg and Swisher.
However, Jobs also showed his lighter side in regard to the iPhone controversy by saying, "This is a story that's amazing, it's got theft, it's got buying stolen property, it's got extortion, I'm sure there's sex in there somewhere…somebody should make a movie outta this."
What's interesting about Jobs' statements is that he indirectly accused Gizmodo of extortion. Earlier this year, Gizmodo purchased a test unit of the next-generation iPhone from someone who claimed to have found the device in a bar in Redwood City, California. The gadget blog then wrote several detailed posts about the device, and its components. The iPhone leak has resulted in an ongoing criminal investigation, but it's not clear if the target of that investigation is Gizmodo or the person who sold the device to the gadget blog.
I imagine Jobs' extortion charge is referring to measures Gizmodo took to force Apple to issue a written request asking Gizmodo for its prototype back. It will be interesting to see if Jobs' claim becomes part of any formal charges against Gizmodo.
Jobs on next-gen iPhone fallout:
Jobs expounded further on why Apple decided to exclude Adobe products from Apple's iPhone OS devices such as the iPhone and iPad. Apple has said it will not allow Flash to run on its iPhone OS products and forbids developers from creating iPhone applications using Adobe's cross-platform development tools. "Different pieces of technology kind of go in cycles," Jobs said. "Flash looks like a technology that had its day, but is waning, and HTML 5 looks like the technology that's really on the ascendancy right now."
Check out Jobs' comments on Adobe in this Flash video:
Connect with Ian on Twitter (@ianpaul).