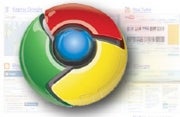 It's official: Google plans to debut its Chrome operating system in the fourth quarter of this year, although the company has yet to provide an exact launch date. Sundar Pichai, Google's vice president of product management, made the announcement Wednesday at the Computex trade show in Taipei, according to IDC News.
Chrome OS, announced by Google nearly a year ago, is a lightweight, open source operating system designed for netbooks, at least initially. Like its namesake Chrome browser that's steadily gaining market share, Google's new OS is built for speed. Startup times, including access to the Web, should take seconds rather than the minute or longer that most Windows users endure. The cloud-based design should provide quick access to Google's suite of online applications too.
Netbook manufacturers are readying Chrome OS-based devices. Acer, for instance, has announced plans to launch a series of Chrome OS netbooks. And other industry leaders, including Asus, HP, and Lenovo, are reportedly developing Chrome OS hardware as well.
Who Wants It
So does the world need another desktop operating system? Yes, particularly if the new contender advances the genre. Windows 7, a fine OS for conventional desktops and laptops, is overkill for netbook users drawn by Google's simple promise: Faster access to the Web, online apps with cloud storage, and fewer security hassles.
Given the low-cost appeal of netbooks, early Chrome OS adopters will likely be bargain hunters and perhaps students seeking an inexpensive alternative to a full-size Windows PC. The Google brand will help sway consumers–including those wary of little-known, Linux-based offerings like Ubuntu–to buy Chrome OS devices. Businesses may test Chrome OS portables this year, but mainstream adoption won't occur until 2011 at the earliest–and that's only if Chrome OS delivers on its promise.
Ultimately, Google plans to extend Chrome OS beyond netbooks and into the desktop/laptop market dominated by Windows. Given the ergonomic shortcomings of today's netbooks–specifically, cramped keyboards and small screens–consumers who find Chrome OS appealing may avoid the platform simply because they don't like the hardware it runs on. Since Chrome OS runs on both x86 and ARM processors, it's likely that a new crop of thin-and-light laptops–larger than netbooks but slimmer than full-size portables–will soon feature Google's OS too.
Chrome OS is more than simply another Windows or Mac competitor. It represents a dramatic shift away from desktop-oriented PCs to a cloud-based future. It'll be interesting to see how consumers and businesses take to Chrome OS devices–and how Microsoft and Apple respond to Google's latest threat.
Contact Jeff Bertolucci via Twitter (@jbertolucci) or at jbertolucci.blogspot.com.