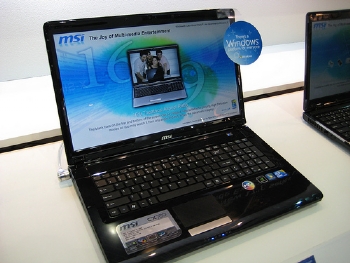 Are you hankering for a taste of Nvidia's latest Optimus GPUs? If you can't afford a ticket to Taipei for the Computex expo, here's a preview of some of the new machines featuring this graphics-switching technology.
An Nvidia blog post highlights laptops from Acer, Lenovo, Asus, Packard Bell, Gateway, and MSI featuring Optimus that are on display at this year's Computex show. Asus leads the pack with ten models (including two netbooks) that use Nvidia's latest graphics-switching technology.
Most of the models have GPUs from the GeForce 300M family, as well as 1 GB of VRAM and 15-inch displays, while the netbooks have understandably tinier screens. Rumor has it that the MSI FX700 is rocking a GTX 460M, though we can't confirm that at the moment.
Why are switchable graphics cards so hot (well, cool) right now? GPU-switching systems detect when you're using 3D video or gaming applications and automatically switch on the dedicated GPU. When you're no longer watching video, the GPU turns off, and you fall back onto the integrated graphics chip. Optimus could help extend your laptop battery life, and it can provide improved graphics performance. Until now, GPU switching systems were clumsy–you often had to log out or restart for the graphics switch to take place–but Nvidia claims that Optimus will make the process much smoother and more seamless than ever before.
For more about Optimus, see Jason Cross's overview on the topic.
Like this? You may also enjoy…