If you have an Android phone and need a Wikipedia browsing app, then try Wapedia by Taptu. Wapedia may be the only Wiki app you'll need.
Wapedia features stunningly fast searches, intuitive organization, and other powerful features. Users can either install the free application from the Android Market or steer their mobile browser to http://wapedia.mobi. Either way you get it, the app provides an impressive mobile Wiki browsing experience.
When the app opens, a search bar appears along the top of the screen with a button on the right for bookmarking favorites. Below it is a statement on the number of articles (currently around 3 million) that Wapedia has from the Wikipedia encyclopedia. The tabbed home page includes "Categories," "In the news," "Did you know…," "Random articles," "Popular pages," and "Featured content."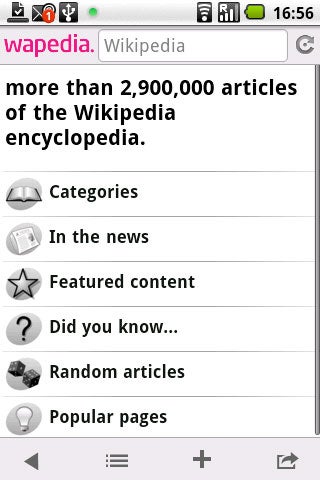 Another noteworthy feature is Change Wiki, which enables users to switch between dozens of different Wikis such as Wikitravel, BibleWiki, Call of Duty Wiki, and Twilight Saga Wiki.
The Help and About options are stashed neatly along the bottom menu bar, which also has options to go back to the last page, list the numerical table of contents, and share (my options included Gmail, Email, TweetCaster, Evernote, and SMS message). The bottom menu will also open search results in other languages or other Wikis. You can set other preferences under the "More" button to change image size, font size, page length, theme, and so on.
Selecting "Popular pages" returns results such as "HTTP 404," "Searching," and "Justin Bieber," while "Did you know…" informed me that the black honeyeater bird eats charcoal. Neat! The "In the News" option includes a handy "In this day" section, and the Categories section has an impressive number of subcategories. It's easy to get lost fiddling around with the Categories and subcategories here–but categories aren't everything.
Wapedia's most useful feature is search. The search function on this app is extremely rapid because it autofills as you type. Results will populate below the search bar display until you finish typing. Wapedia found my search query for "French Bulldog" almost instantly and organized the results neatly and naturally on my mobile screen.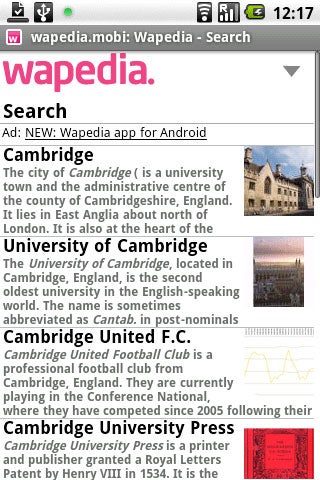 Wapedia's rapid search results, intuitive organization, and neat features make it a keeper.