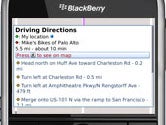 Got a BlackBerry for your business? Getting around is about to get a lot easier.
Google has just announced a new version of its Google Maps BlackBerry app, Google Maps 4.2 for BlackBerry. The update adds a host of features, including a mobile sharing option that's sure to come in handy for enterprise users.
Google Maps: Mobile Sharing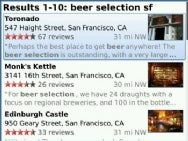 With Google Maps 4.2, results-browsing becomes photo-friendly. The app now offers what Google calls a "simplified search results page." This gives you images along with one-touch access to directions, phone dialing, and other users' ratings for the location you're trying to find.
Perhaps more noteworthy, though, is the link you'll now see entitled "Share This Place." After finding a destination, you can simply tap that link to fire off a packet of info — the building's address, phone number, even a photo of its exterior — to your friends or colleagues. You can choose to use either e-mail or text messaging.
Just think: Larry from accounting will never have an excuse for getting lost on his way to lunch again.
Google Maps: Biking Directions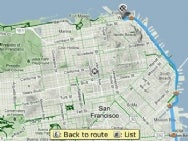 The new Google Maps for BlackBerry packs some extra punch for bikers, too (bicyclists, that is — sorry, Harley). Like its Web-based cousin, the app now offers customized directions for bicycling routes all across America, whether you're out on the roads or deep in the trails.
Once you input an address, Google Maps 4.2 will let you select from dedicated bike-only trails, roads that have been deemed safe for biking, and roads with bicycle lanes. The Maps app uses a series of special layers to differentiate the options; you can see them all on the same screen or opt to highlight one particular path.
Getting the New Google Maps
The new Google Maps app is available free to all BlackBerry users today. Just head over to m.google.com/maps from your phone's browser and select the option to install the update. Google promises it's fixed an old issue that previously caused upgrade problems, so this transition should be trouble-free.
JR Raphael frequently covers mobile technology for both PCWorld and eSarcasm, his geek-humor getaway. He's on Facebook: facebook.com/The.JR.Raphael