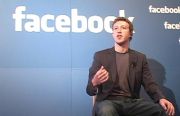 Facebook CEO Mark Zuckerberg responded to criticisms surrounding user privacy and admitted his company had made mistakes during an interview at the D8 conference on Wednesday. The Facebook chief also took questions from the audience denying the rumor that the social network was building a Webmail service to compete with Gmail and Hotmail, according to All Things D.
But despite some direct answers to audience questions, the Facebook CEO appeared to be doing his best to avoid candid and direct responses during the interview, based on videos released by D8 organizers. Speaking with The Wall Street Journal's Walt Mossberg and Kara Swisher, Zuckerberg routinely avoided the serious privacy issues that were raised. Instead, he offered some canned responses about Facebook's history and goals.
One example: Zuckerberg was asked by Swisher about Facebook's privacy controversies and whether Zuckerberg felt he was "adequately portrayed" in the media. Zuckerberg spent almost a minute-and-a-half recounting the early days of Facebook, and talked about past offers from major companies to buy the burgeoning social network. Only towards the end of this diatribe did Zuckerberg make a vague reference to past mistakes made by Facebook in terms of user privacy.
Watching Zuckerberg ramble on during video excerpts from the interview, I felt like I was watching the young CEO collapse under intense questioning on Meet the Press.
It also didn't help that Zuckerberg chose to wear an insulated hoodie under hot stage lights. Zuckerberg's poor wardrobe choice caused the young CEO to sweat profusely, and appear even more disturbed by the direct yet relatively gentle questioning from Mossberg and Swisher. Live blogging the interview, All Things D's Jon Paczkowski remarked, "[Zuckerberg is] flushed, and you can see the beads of sweat rolling down his face. Could this be his Nixon moment?"
Take a look at the videos and judge for yourselves.
Zuckerberg gets hot under the collar:
At about the 3:30 mark of this video, Mossberg asks about Facebook's habit of automatically enrolling people into new services that potentially expose more user data to third parties. "Why are you [Facebook] taking preemptive steps that make me go and check and make sure that I have the control I want?" Mossberg asked.
"How the system is set up is a really important part for how it functions," was Zuckerberg's initial response before going off about how people like to share on Facebook. Later in the interview, Mossberg comes back to the opt-in versus opt-out question, and Zuckerberg said, "Making these products that people can share and that people can control and that are simple to do both is this balance…opt-in versus opt-out is one part of that balance."
Connect with Ian on twitter (@ianpaul).