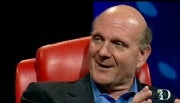 Apple CEO Steve Jobs may believe that the personal computer–Mac and Windows PCs–will be diminish in importance in the near future, but Microsoft boss Steve Ballmer sees thing differently.
Ballmer, during a Thursday morning interview at the Wall Street Journal's D8 conference, told the Journal's Walt Mossberg that PCs will continue to evolve but will remain popular, even in a world where more and more people carry smartphones and tablet devices like the iPad.
"I think people are going to be using PCs in greater and greater number for many years to come," Ballmer said. "I think PCs are going to continue to shift in form factor. PCs will look different next year, year after, year after that."
Earlier this week at D8, Apple's Jobs said that fewer people would use conventional desktop and laptop computers in the coming years, opting for smartphones and tablets instead. Ballmer, however, sees a more multi-gadgeted world ahead.
"Nothing that people do on a PC today is going to get less relevant tomorrow," said Ballmer, who agreed that the market for entertainment-oriented tablets like the iPad would grow.
"It's not clear to me that…there will exist a general-purpose device that does everything you want, because I don't think the whole world will be able to afford five devices per person," added Ballmer, taking a not-too-subtle jab at Apple's stance that the iPad represents a new breed of tech gadget, one that consumers will buy in addition to their mobile phones and computers.
Microsoft's Mobile Business
When asked by Mossberg if Microsoft had "missed a beat" in the mobile market–after all, Redmond is clearing lagging behind Apple and Google in the rapidly-growing smartphone and tablet markets– Ballmer admitted that his company has fallen behind, but pointed out that mobile leadership has already changed more than once.
"We're dealing with the fact that we're no longer at the front of that pack. But it's a very dynamic business," he said. "The market leaders have probably shifted over twice even in the last 5 to 6 years. The fact that the market is pretty dynamic, I have to view as our opportunity."
On the Future
During a session with Ballmer and Microsoft's chief software architect Ray Ozzie, Mossberg pointed that while Redmond won the desktop PC war–the Windows operating system continues to dominate consumer and business markets–it is weak in other areas. Ballmer called the market changes "a transition."
"Is it a time in which we need to work smarter, work harder, be more vigilant? Absolutely. But not because we're moving from a world that's fundamentally good for us to a world that's fundamentally not good for us," Ballmer said. "We're moving from a world that's fundamentally good for us to a world that could be even better for us."
Microsoft today is facing a "new class of competitor," Ballmer added. Ten years ago the company battled new challengers like the Linux operating system and OpenOffice productivity suite. Today's competitors are in new areas. "It's our job to out-work them, out-innovate them, out-hustle them," he said.
When asked what people want from Internet-based (cloud) computing services, Ozzie said: "People want their devices to become more appliance-like. They want to buy it, log in, and light it up."
"Regardless of what the device is, whether it's a PC or a non-PC device, applications will feel more cached than installed," said Ozzie. "You'll go to a website, the piece of the app that should be on the client comes to the client, the piece that should be on the cloud is in the cloud."