You've probably heard about HTML5 plenty of times recently, but you may not know too much about what it can do. Apple wants to change that with its new site that showcases some of HTML5's features and capabilities.
The site features several demos that use the latest Web standards, and cover a number of HTML5, CSS3, and JavaScript features. There is one catch: You need to be running Safari 4 to see the demos. I was unable to view the demos even when using the latest version of Google Chrome (5.0.375.55), which is based on the same browser underpinnings as Safari.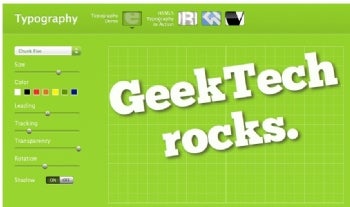 One of the demos shows off some of HMTL5's video playback capabilities. It lets you scale the video as it continues to play. Another demo shows how HTML5 lets you design sites with rich typography without adding image files: The demo lets you change the font, and text color and lets you move the text about. The font can also be scaled easily using Scalable Vector Graphics.
Another really cool demo, Audio, demonstrates the audio tag in HTML5, which lets you insert audio into your Website without requiring extra plug-ins. Other demos include image transitions, 360-degree rotation around an object, a gallery, and VR browsers, all using features available in HTML5, CSS3, and JavaScript.
Apple also worked in a subtle jab at Flash, saying, "Standards aren't add-ons to the web. They are the web. And you can start using them today."
Even if you aren't a fan of Apple's anti-Flash stance, the demos are worth checking out–provided you're okay with downloading Safari.
[via Daring Fireball]
More HTML5 coverage from GeekTech…