Rdio is opening up its social music service to a new round of users, the company said in a blog post on Wednesday.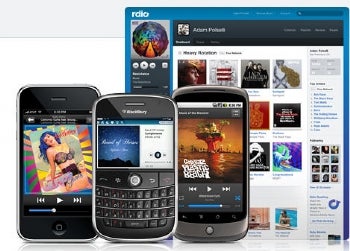 The service, created by Kazaa and Skype founders Janus Friis and Niklas Zennström, allows users to share their taste in music with friends, and offers access to music via a Web-based client for PCs, iPhones and some BlackBerry devices. The phones can also store the music for later playback offline, and an Android application is coming soon, the blog post said.
Users who have helped develop the service have been sent invitations which they can pass on to their friends.
Rdio has also been integrated with social networks, so users can share links to music via Twitter and Facebook. Listening to the music requires a subscription: Invited users can choose between Rdio Unlimited, which costs US$9.99 per month and works on the Web and some smartphones, and Rdio Web, which is web-only and costs $4.99 per month.
At first, the service will only be available in the U.S., but other parts of the world will follow in the near future, according to the blog post.
Its music library includes about five million songs, according to a statement.
Friis and Zennström incurred the wrath of the entertainment industry with an earlier venture, Kazaa, a peer-to-peer file-sharing service that allowed users to download content for free.
However, Rdio has music majors EMI Music, Sony Music Entertainment, Universal Music Group and Warner Music Group as well as a number indie aggregators of digital music on its side, the company said.
Rdio is far from the only service that offers streaming music to mobile phones. Others include the European service Spotify, which so far isn't available in the U.S. Spotify offers a subscription-based service and an ad-funded version that is free to the user. The latter has been a runaway success, but Spotify has had problems converting people to the paid version, according to Paolo Pescatore, an analyst at CCS Insight. Users are willing to pay for tracks and albums, but they haven't been as keen to pay for monthly subscriptions, he said.
Kazaa and Skype were both big hits. But one of Friis' and Zennström's more recent projects, the Internet TV service Joost, hasn't managed to take off in the same way, so it remains to be seen whether the duo still have their golden touch.