With the death of AT&T's unlimited data plan, Cost-conscious IT administrators now need to put more effort into understanding how much bandwidth is consumed, and which option makes the most sense from both an operational and financial perspective.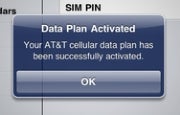 When Steve Jobs unveiled the iPad to the world in January, one of the most innovative things about the tablet device was the ability to enable or disable unlimited 3G data on the fly through AT&T without being shackled by a contractual obligation. However, AT&T pulled a little bait-and-switch, and now only two months after the launch of the iPad the rules have changed.Let's take a look at what your options are now for connecting the iPad to the rest of the world.
Connecting a 3G iPad
You can still turn the 3G data connectivity on or off with a click or two from the iPad, making the 3G version of the iPad a more versatile option for business professionals that might need to get access to critical resources in a pinch when no wi-fi network is available. However, it could get expensive now depending on the amount of data involved.
The good news is that customers already subscribed to the unlimited data plan are grandfathered and can continue using the unlimited plan as long as they choose. The bad news is that if you ever turn off the unlimited data plan you won't be able to get it back again, so you are in effect forced to continue paying monthly forever on your "no contract" data plan if you want to keep the unlimited access.
New iPad 3G customers, or customers that abandon existing unlimited data plans, will be forced to choose between the new limited data plans–either 200Mb of data for $15, or 2Gb of data for $25. You can use the AT&T Data Calculator to try and estimate the amount of data you expect to consume on a monthly basis and choose the plan that makes the most sense.
Existing customers who have already been using the 3G connectivity of the iPad should be able to view the data usage history online, or at least get that information by contacting AT&T. If the history shows that you are using less than 200Mb, or 2Gb as the case may be, each month then you can switch to one of the new plans and save a few bucks. However, if you are using more than 2Gb per month of data, and that seems likely to continue, get the unlimited plan now and keep it.
Connecting a Wi-Fi iPad
There are other options as well, though–for both wi-fi only iPads and 3G-capable iPads in search of a non AT&T 3G alternative.
• Public Wi-Fi. It won't help you pull up a purchase order, or marketing presentation when visiting a client site with no 3G signal and no access to a wireless network, but there are free public hotspots virtually everywhere. McDonald's provides free wi-fi, and you can find the ubiquitous Golden Arches on almost any street corner, so a free wireless connection is never very far away.
• Personal Hotspots. If you are a Sprint wireless customer and you have a Palm Pre or the new HTC EVO, then you already have in your hand a device capable of creating its own personal hotspot that can connect a handful of devices and share out the wireless connection.
A similar option would be to get a personal mobile hotspot like the MiFi from Verizon or Sprint. The device is $270 full price, but like a smartphone you can get it at a significantly lower, subsidized price if you are willing to accept a two-year contract. Whether you enter into a contract or not, the service is $60 per month for 5Gb of monthly data capacity from both carriers (although Sprint also includes unlimited data over 4G where that network is available).
There are also some other less orthodox methods. For example, there is an undocumented feature of Windows 7 that allows you to turn a laptop into a portable hotspot as well. However, when you get to the point where you are carrying your Windows 7 laptop so you can access the Internet from your iPad, I think you have crossed some sort of line in terms of practicality.
• Tethering. This is speculation at this point. There have been leaks and rumors suggesting that the new iPhone OS will be capable of tethering. The fact that AT&T has dropped unlimited data, and added a new tethering option where they let you give them $20 a month for the privilege of having the option to tether–but without any additional data allocation–also implies that tethering will be coming soon.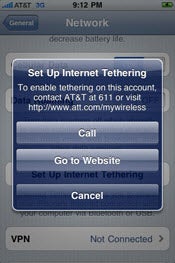 However, there is a difference between tethering–which implies a wired connection between the two devices–and sharing a smartphone as a wi-fi hotspot. So, tethering an iPad would require some sort of cable to attach it to a smartphone or other wireless device. Assuming that the next generation iPhone OS will somehow allow the iPhone and iPad to connect and share the data connection without wires, the iPad is still not slated to get the new OS for another few months.
Users that have unlimited data plans on both their smartphone and iPad right now are paying $60 a month for that service ($30 for each unlimited plan). If AT&T's data is accurate, 65 percent of those users are consuming less than 200Mb per month, and 98 percent are consuming less than 2Gb. Subscribing to the new 2Gb data plan for $25, adding the tethering option for $20, and adding $10 for the overage if the combined data consumption of the two devices exceeds 2Gb will accomplish roughly the same results for $5 a month less.
The iPad is designed as a Web-enabled, media and data consumption device. The megabytes can add up quickly, so IT administrators need to be diligent when examining the data needs of mobile users with iPads and consider carefully the available options for getting to the data.
You can follow Tony on his Facebook page , or contact him by email at tony_bradley@pcworld.com . He also tweets as @Tony_BradleyPCW .
Follow Tech Audit on Twitter.