If you're a LAN administrator in charge of–or a consultant diagnosing–an ad hoc collection of hardware and software, it can be difficult to get a handle on the diverse hardware and software that might be running. Enter Lansweeper (various pricing, 30-day free trial with advanced features), a program which allows you to audit every computer on your network so you can know exactly what's out there and what users are running on it. Personally, I was hoping that Lansweeper would work with workgroups; however, in my hands-on, it found no computers on my existing workgroup and I had to create a test domain. This may have been a quirk of my system, as I was able to create one later.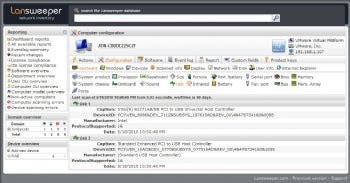 Lansweeper requires both Microsoft .NET 2.0 and an SQL server to operate and maintain its database of PCs it inventories. The only issue I spotted was installation-related. Lansweeper failed to provide the proper credentials for my domain to install SQL Server 2008 Express so I was forced to install it by hand.
After the install was completed, all worked fine. You must use Internet Explorer for Lansweeper's HTML-interface as the program, which relies on Activex to do its scanning. The program grabs hardware and software information, including license compliance to warn you of possible software issues. There's also a handy invocation for remote desktop so you can quickly access each computer on the network. The interface is generally intuitive, but not nearly as slick as Spiceworks IT Desktop, largely because of the density of the information displayed. On the other hand, once you're used to it, there's less navigation to see what you need to see.
Lansweeper works quite nicely, and despite my having to install SQL Server 2008 Express manually, certainly easier to install and use than the free Open-Audit, as well as faster and more accurate than free Spiceworks. Give it a go if the free alternatives aren't getting it done for you.
Note: To keep using the advanced features of Lansweeper after 30 days, including software installation and hardware history, e-mail reporting, IP range scanning, printer, switch and router discovery you'll need to purchase the program. The other features are still available, albeit not terribly useful. Premium costs $299 and various licensing schemes will take the price up to $1499 for unlimited usage.