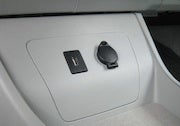 In the very near future all cars will have built-in USB ports. Some do now, but until that future becomes a full-blown reality you can either wait or take matters into your own hands with this do-it-yourself mod.
Instructables member rosenberger31, added a USB port to the dashboard of a 2010 Toyota Prius. His DIY mod can power and charge a range of mobile devices, all without the need for those unsightly and bulky adaptors.
Although the step-by-step Instructables guide is specific to the aforementioned vehicle, rosenberger31 says that they should be transferrable to most other vehicles; be it a car, truck, or boat.
To get yourself modded you will need to find the power source for your dashboard's cigarette lighter. Rosenberger31 then added a 12-volt USB adapter and connected it to the power lines. He then fitted the visible USB port into a spare (blank) accessory plate.
Once the mod has been completed, the USB port provides 5 volts of regulated power to any connected device. But a word of warning: With some vehicles you may need to add a switch to the port to avoid power being supplied when your car isn't running, otherwise you risk running down your battery. Oh, and it may be worth checking out how this mod will effect your warranty (hint: It'll probably void it).
Of course if you don't want to hack your car, you can always add USB ports to your power outlets at home.
[via Lifehacker]
Like this? Keep on hackin' with these other mods:
Follow Chris Brandrick and GeekTech on Twitter.