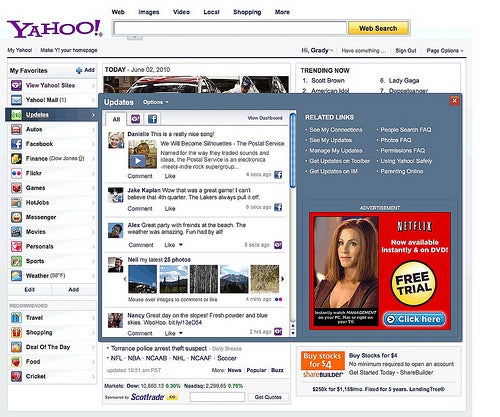 Facebook's ongoing domination of the Web reached new heights when it paired with Yahoo to integrate updates, games, and more into the number two search engine. Now that Yahoo users can enjoy Facebook without leaving Yahoo sites (click on the screen cap to see a closeup of the new arrangement), Yahoo could experience a significant traffic surge. But is it enough for Yahoo to gain market share? And how much Facebook is too much?
What's the Package?
For starters, Yahoo is rebranding its Yahoo Profiles feature as Yahoo Pulse, which is currently unavailable but expected to launch in a few days, according to the Wall Street Journal.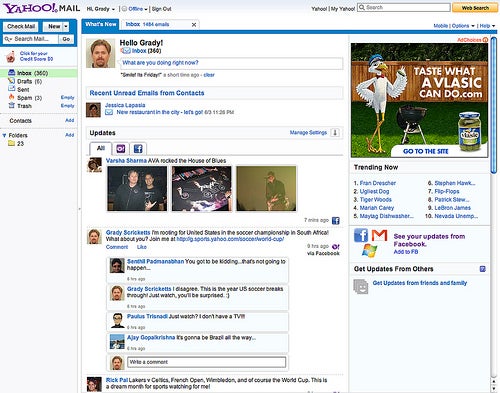 Pulse will eventually exist as a hub in which Yahoo members can connect with others and post information about themselves. It'll also aggregate social network info, allowing users to browse Facebook data such as links to articles and status updates. Yahoo plans to add other social networks in the future.
These integrations will spread across most Yahoo pages, including the Yahoo home page, Yahoo Mail, News, Sports, Answers, omg!, TV, and Music.
Should Google Worry?
The short answer: no. It seems nothing will knock Google off its pedestal. Google receives more than 50 percent more visitors than Yahoo, according to Hitwise data, and though Yahoo has a few tricks to gain share — including partnering with Microsoft — it's unlikely that it'll come anywhere close to Google's status.
But that doesn't mean Yahoo won't nab a chunk of Google's glory. Facebook recently beat Google to become the most popular site in the world. The Facebook-Yahoo marriage can only boost usage.
What About Our Privacy?
Lately when you hear the name Facebook, you've got to gird your privacy and start asking questions. Yahoo was prepared for such an event: Yahoo Pulse will supposedly simply user's privacy settings. Whether or not you'll have to adjust settings in both Yahoo and Facebook has yet to be seen, but if that's the case, watch out. If history is any indicator, the complaints will roll in.
Sick of Facebook Yet?
This partnership is enough to make you wonder what Faceboo

k won't be integrated with in the future. Facebook's universal "like" button is already gathering steam and will soon saturate the Web. Everywhere you turn: the specter of Facebook. It's enough to give you an overdose.