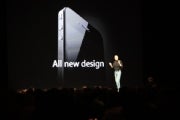 The Apple iPhone 4, announced today by Steve Jobs at Apple's Worldwide Developers Conference, will be 24 percent thinner than its predecessor at 9.3mm thick, contain a front-facing camera, and offer greatly improved battery performance (up to 40 percent more talk time, according to Jobs).
Jobs described the phone as, "beyond a doubt, the most precise thing and one of the most beautiful things we've ever made" before highlighting a number of its new features.
The iPhone 4 will be priced at $199 for a 16GB model and $299 for a 32GB model, and it will go on sale June 24.
(View a video showing the Apple iPhone 4 announcement.)
Jobs also announced a new operating system for both iPhones and the iPad: Called iOS4, it will have 100 new features and 1500 application programming interfaces or APIs.
Other iPhone 4 Features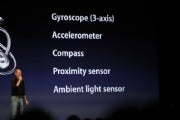 The new phone will have 32 gigabytes of storage, a gyroscope (which will allow for more precise motion detection), and HD video recording capability.
The phone also will have a improved screen resolution: 326 pixels per inch with heightened contrast. Jobs told the crowd that 300 pixels per inch is the limit of the ability of the human retina to view images.
It also will have three antennae built into the structure of the phone's body that will provide the iPhone 4 with the ability to work with Bluetooth; WI-Fi and GPS; and UMTS and GSM.
In my opinion, the display difference in the example Jobs shows is striking. While I've been dissatisfied by the the fuzziness on the iPhone 3GS's text–something I liken to the difference between standard definition TV vs. HDTV–the text on the iPhone 4G looks sharp and crisp, with no pixelation. Additionally, the colors are more vibrant, and edges are smoother and sharper.
There are new volume buttons, a mute button, plus a second microphone on the top for noise cancellation. Just like the iPad, it now incorporates a micro-SIM tray.
Camera and Screen Details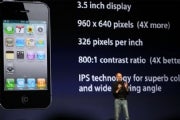 The IPhone 4 comes with two cameras: One on the front for video conferencing, and one on the rear for photos and video. The rear-facing camera has been upgraded to 5 megapixels–up from 3 megapixels on the iPhone 3GS–and it can record 720p high-definition video.
Also included is an iPhone version of iMovie, which will let you edit video clips on the phone, splice them together, add titles to your videos, and so forth. (The app will set you back $4.99 from the App Store, Jobs told the packed audience at San Francisco's Moscone Center).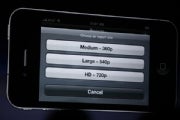 The iPhone 4 screen will have In-plane switching. Known as IPS, this is a high-end LCD technology that has better color and a better viewing angle than lower-end LCD screens. Apple currently uses an IPS screen in its iPad.
Jobs also said that the new phone's 800:1 contrast ratio was four times better than the current iPhone 3GS, with better color and a wide viewing angle that Jobs claimed was better than you can get with OLED display technology.
Jobs also announced FaceTime, a video chat app that makes use of the iPhone 4's new front-facing camera. FaceTime works over Wi-FI, and works between any two iPhone 4s. Jobs did note that FaceTime will not yet work if you're connected to a cellular data network–apparently there are a few kinks left to work out.
AT&T iPhone 4 Contract Info
If your iPhone contract expires anytime in 2010, you are immediately eligible for a new iPhone 4 if you top up your iPhone contract by 2 years. The price of the iPhone 3GS drops to $99 for 16GB. Although the phone goes on sale on June 24, preorders will start on June 14.
E-Book Reading Capabilities
As an e-reading platform, iBook has been greatly enhanced with the addition of a separate PDF library, and the ability to sync between iPad and iPhone.
These additions, coupled with the high-resolution display, make the iPhone more viable as an e-reader (its relatively small screen notwithstanding). And, overall, it makes Apple a bigger threat to in the e-reader space, period.
With an LCD screen that, theoretically (and from what we saw in the demo at the keynote today) can better approximate the text on a printed page, an E-Ink screen's usefulness may become redundant. This could be bad news for the Amazon Kindle e-book reader and others like it.
E-ink may continue to hold an advantage in its easy-on-the-eyes, paper-like background, but that will be one of its only advantages.