Pssst…have you heard? Microsoft has some great Web services.
Microsoft's Web services are so often overlooked that they're just about the software giant's best kept secret. But Microsoft is no Web-service slouch. In recent months the company has beefed up its Internet-based offerings with Office Web Apps, cool mapping tools, and desktop productivity software for making your data and core applications available anywhere on multiple devices, such as netbooks, smartphones, or PCs at an Internet café.
For this article I hunted down five of Microsoft's newer Web services that I think deliver better functionality than what Google and other competitors offer. I've also added a couple of tips related to the Hotmail overhaul that's expected to roll out soon.
Get Office Web Apps Right Now
(Editor's Note: This hidden gem is no longer so hidden. Microsoft has now officially launched its Office Web Apps for general availability. You can try out the Web-based versions of Microsoft Word, Excel, PowerPoint and OneNote by going to office.live.com and signing in with your Windows Live ID. – updated 6/8/10)
Office Web Apps, currently in beta, are scheduled to go live June 15 when Microsoft Office 2010 hits store shelves. They're free, online versions of Microsoft's popular Office programs–namely, Word, Excel, PowerPoint and OneNote–that you can access from a Web browser. But you don't need to wait until then: You can start using Office Web Apps right now. All you need to get started is your Windows Live ID and a document to upload to Windows Live SkyDrive.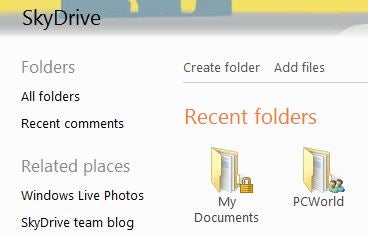 First, go to skydrive.live.com, and click Add files above your SkyDrive folders. Next, select a folder and upload the file you want to use from your desktop. Afterward, you'll see a page showing the contents of your SkyDrive folder. Above the files should be a small line of text that says, 'Join our preview program to create, edit, view, and share Office documents online!'

Click Join our preview program and then select Agree at the bottom of the end-user license agreement. You're now set up to use Office Web Apps.
To get started with Office Web Apps, go back to SkyDrive. Select the document you uploaded, and then click the new Edit menu option. This command will take you to the corresponding Web app for your document type. At the time of this writing, Microsoft's Excel and PowerPoint icons were functional, but the Word and OneNote apps had no document-editing capabilities; Microsoft says that Word and OneNote will not be available before the official launch of Office Web Apps.
You can also create Excel and PowerPoint documents in your browser by clicking the New drop-down menu at the top of the folder-contents view.
Streetside in Bing Maps
The latest version of Bing Maps has an interesting new feature called Streetside (similar to Google Maps Street View) that allows you to explore street-level views of select U.S. cities. Microsoft has a long way to go if it wants to match the thousands of miles that Google offers in its Street View mapping service–but from what I've seen, Microsoft provides a compelling alternative.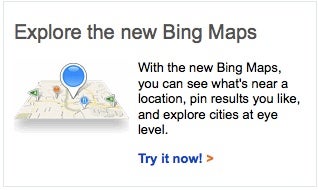 To use Streetside, go to Bing Maps and click the Try it now! link in the left pane to activate the Silverlight version of Bing Maps. Then just search for an address, and select the Streetside link in the Bing Maps search results.
When you first start up Streetside, Bing Maps' Silverlight interface uses a cool 3D effect to drop you into the map. Bing also uses a 3D effect when you zoom in on a building or location within Streetside. Though this feature doesn't really add to the functionality of Bing Maps, it is a nice visual enhancement.
You can easily navigate Streetside either by using the compass at the bottom of the screen or by dropping the Streetside icon (the little blue man) onto the map. I found that, compared with Google Street View, Streetside makes zooming in on specific locations much easier; exploring and navigating Streetside's immersive images is effortless, too.
Bing Maps also keeps a search history in the left navigation panel under 'My Legend', so you can quickly move between previously searched locations on Bing Maps.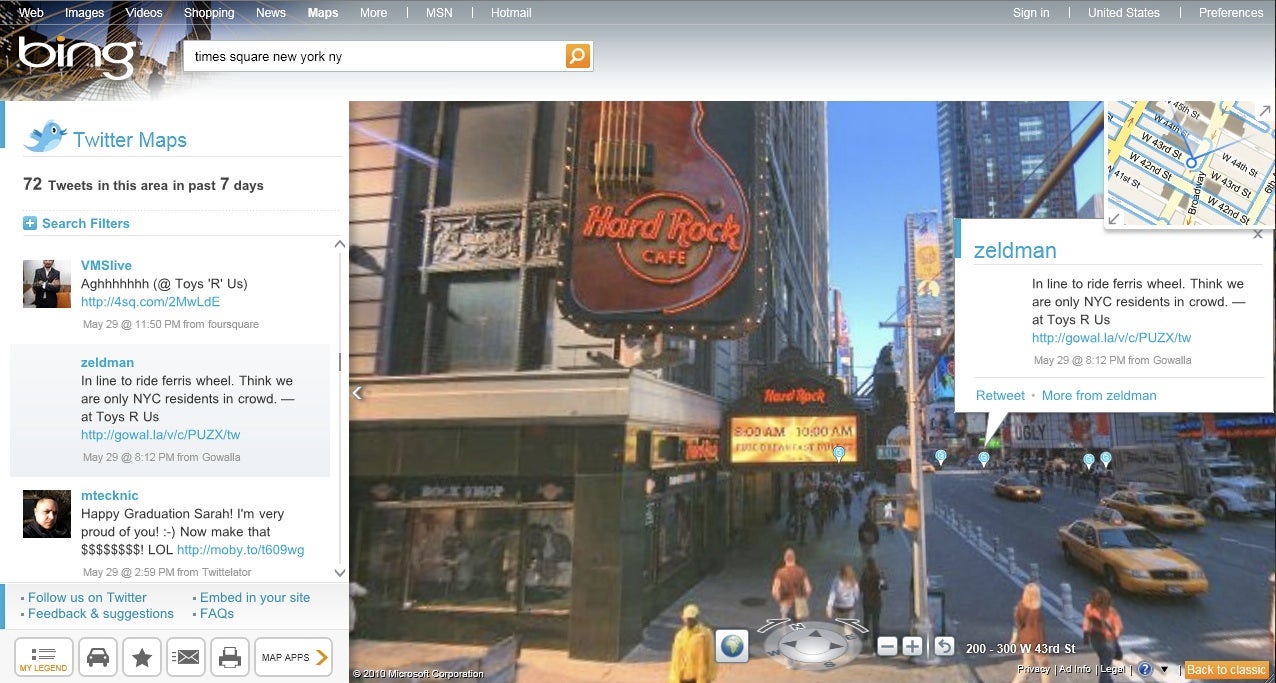 With this iteration of Bing Maps, you can add Foursquare, National Geographic, Twitter, and other applications that contribute more data to what you're seeing in Streetside. The Foursquare application brings up a list of recent check-ins and tips about restaurants and venues near the location you're viewing on Streetside. Bing's Twitter app adds location-based tweets to your Streetside map, and assorted other applications can help you find gas stations, rental properties, street art, and more. To add applications to your map, select Map Apps in the left pane in Bing Maps.
Social Media Aggregation and Hotmail
Do you have a relative or friend who uses Hotmail but is leery of joining a social network like Facebook? A great alternative is to bring all your social-media activities into your Windows Live profile page, including your Facebook wall posts, Twitter updates, and Flickr photo streams. Then, when you update any one of your social networking services, your Hotmail friends get an update.
To set it up, go to home.live.com and click Add web activities at the upper right of the page. This takes you to another page where you can select the sites and services you use, such as Facebook, Hulu, MySpace, TripIt, Twitter, WordPress, Yelp, and YouTube. Adding services will pull all of your status updates, ratings and reviews, wall posts, and shared photo albums from them to your Windows Live profile.
Now just add your friends to your Windows Live network by selecting Add people from the Windows Live homepage, and your contacts will be able to see your shared posts and photos through their Windows Live account.
Once the new Hotmail goes live, you'll also be able to pull your friends' social networking updates into the new Windows Live landing page, creating a central hub for all your online activity.
Next: Mapping SkyDrive Folder to the Desktop
Map a SkyDrive Folder to Your Windows 7 Desktop
One of the best features of Windows Live is its 25GB of free storage through SkyDrive. In contrast, Google Docs offers you only 1GB of free storage, and SkyDrive uses the typical folder structure you're used to in Windows.
To make SkyDrive even easier to use, you can map it to your desktop, giving SkyDrive similar functionality to an external hard drive. When you map SkyDrive to your desktop, Windows uses a hard-disk icon to represent it, just as for any other mapped drive.
You can map SkyDrive to your desktop in any of several ways, but the easiest method for Windows 7 users is to download the free SkyDrive Simple Viewer utility. First, though, you need to link your Windows Live ID to your Windows 7 user account by clicking Start, Control Panel, User Accounts. (Make sure you're using the 'Large icons' view in Control Panel.)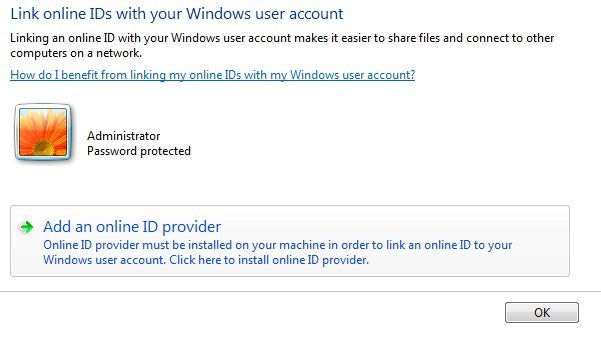 In the User Accounts window, choose Link Online IDs in the right column and then click Add an Online ID provider. After that you'll be prompted to download the Windows Live Sign-in Assistant from Microsoft, if you don't already have it. Once you've installed the assistant, go back to the Control Panel windows, click the Windows Live ID icon, and sign in with your Windows Live credentials.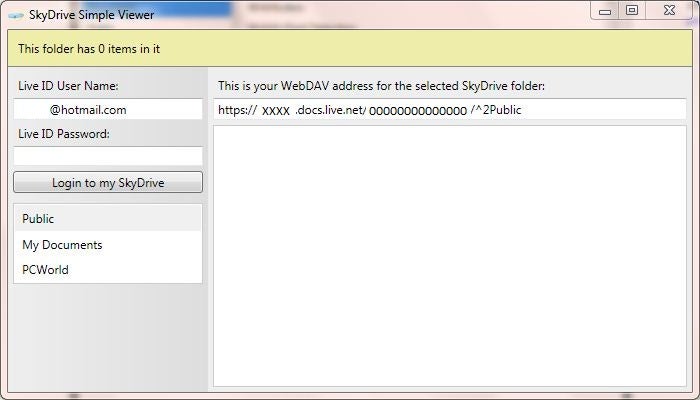 Now, download SkyDrive Simple Viewer and unpack the .zip file. You'll get another Windows Live credentials prompt, and then you'll see all your SkyDrive folders in a list. Select the folder you want to map to your desktop, and take note of the WebDAV address above the list of documents in that folder. (See the screenshot here for an example.)

Copy the WebDAV address and then open Windows Explorer by clicking Start, Computer. At the top of the Explorer window, select Map network drive.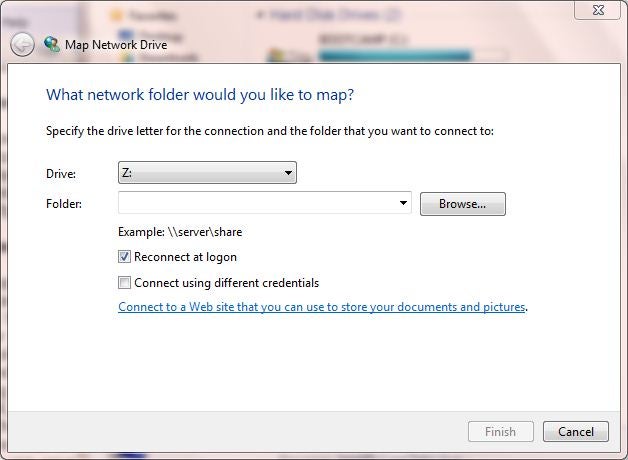 Choose the drive letter you want to use for your SkyDrive folder, paste the WebDAV address into the 'Folder:' field, and click Finish. You'll be prompted again for your Windows Live ID; make sure to select Remember my credentials so that you don't have to log on to Windows Live every time you want to access the drive.
Now click OK. After a short wait you can use your mapped SkyDrive just as you would any other storage space, dragging and dropping items, creating desktop shortcuts, and opening files directly on your desktop. Of course, for you to use your mapped SkyDrive, your computer has to be connected to the Internet. (Hat tip to Paul Thurrott for this hidden gem.)
If you're a Windows Vista or XP user, try the free SDExplorer utility to get simplified desktop access to Windows Live SkyDrive.
Windows Live Mesh Beta
Note: Though Mesh is currently available, Microsoft will rebrand this service as Windows Live Sync later this summer. When that happens, some of the features described below may change, but the basic functionality of syncing documents across multiple desktops and the Web will remain the same.
Live Mesh Beta is a free tool that lets you synchronize files and folders across multiple desktops and the Internet. This setup allows you to have the latest versions of your documents available on any Internet-connected PC or Mac system. Microsoft says that a mobile version of Mesh is in development, too, but the company has not released it yet.
You can use Mesh not only to sync but also to share documents with coworkers, clients, or anyone else who needs remote access to a folder. Mesh has a "News Bar" that issues a notification whenever you or anyone else who can access your Mesh folders has modified a document or added to it; in addition, you can use the News Bar to leave notes for other users who have access to a shared folder.
To try Live Mesh Beta, go to mesh.com and sign in with your Windows Live ID. Click Add Device and install the desktop software. Once that's done, Live Mesh will ask you to add folders to Live Mesh. Any folders you select will synchronize with the Mesh Website, as well as with any other computers you add the Mesh desktop software to. Your synced Mesh folders are blue.
Mesh currently gives you an extra 5GB of free storage on top of the free 25GB you get with a SkyDrive account. Once Mesh becomes Windows Live Sync this summer, however, you will lose that extra 5GB; you will have to use up to 2GB (maximum) of your SkyDrive storage for the new Live Sync.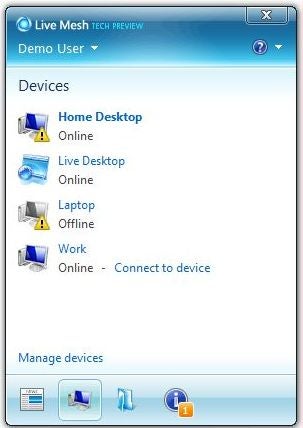 Mesh offers desktop software for both Mac and Windows, but in my tests the Mac software was a little unstable. One day I was unable to install the Mac software on a MacBook running OS X 10.6, even after several tries–a week later, however, I installed the Mac software without a problem. Expect some bugs when using the Mac version. No desktop version of Mesh exists for Linux users, but you can still access your Mesh through the Live Desktop interface.
Another handy Mesh feature is a free remote-desktop function similar to that of the popular service GoToMyPC. To access your remote desktop, select Devices in the Mesh desktop software. You can also go to the Mesh Website and click Devices at the top of the screen. Then choose the device you want to access, and click Connect. For remote desktop to work, the computer you want to access remotely must be turned on and connected to the Internet. Using the remote-desktop feature on the Mesh site requires Internet Explorer 6 or later.
So there you have it: five hidden gems for Windows Live. Any favorite hidden gems that I missed? Add them in the comments.
Connect with Ian on Twitter (@ianpaul).