Apple's announcement today that Bing will be a search option for iPhone users is certainly good news for Microsoft. Perhaps it's not the earth-shaking news that rumors earlier this year had predicted, namely that a growing Apple-Google rift would spur Cupertino to choose Bing as the iPhone's default search engine. Still, the fact that Bing is joining Yahoo as a Google alternative lends credibility to Microsoft's ambitious–if seldom used–Web query tool.
The Bing news was buried in Steve Job's Monday keynote at Apple's Worldwide Developers Conference in San Francisco. The star of the show, naturally, was the new iPhone 4, and Bing's acceptance into the iPhone search club was mentioned in passing.
In addition to being a third search choice for the iPhone, iPad, and iPod touch, Bing will also be an option in the Safari browser on Macs and Windows PCs, according to published reports.
Big Bad Google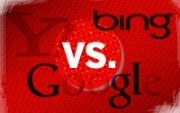 Despite Microsoft's best efforts, including an expensive marketing campaign, to convince people to switch to Bing, Google dominates the lucrative online search market on both conventional PCs and mobile devices. According to Web traffic monitor Hitwise, Google garnered more than 71 percent of U.S.-based searches in April. Yahoo was second at just under 15 percent, and Bing a distant third with roughly 9.5 percent.
The challenge for Microsoft's Bing team is how to persuade iPhone, iPad, and iPod touch users to switch from Google. After all, why should people defect? Google continues to innovate, and it certainly has the resources and ambition to match Bing in a features war. Unless Google screws up badly–an unlikely scenario at present–or Bing manages to unveil a killer search app that draws the mobile masses, the status quo isn't likely to change.
Still, today's Bing-on-the-iPhone news means that Microsoft's chances in the mobile search game have improved–if only a bit.
Contact Jeff Bertolucci via Twitter (@jbertolucci ) or at jbertolucci.blogspot.com .