At a Glance
Expert's Rating
Pros
Excellent general performance
Ample hard drive space
Blu-ray support
Cons
Less-than-ideal gaming performance
Screw-filled chassis slows upgrades
Boring input devices
Our Verdict
As long as gaming isn't your thing, you'll find much to love in the do-everything-else Gateway DX4831-03 midsize tower desktop.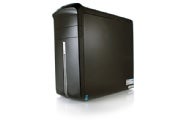 You don't have much room to upgrade the Gateway DX4831-03, but you probably won't need to. Aside from its indifferent gaming performance, this midsize tower desktop PC–the first in Gateway's DX line that we've reviewed since last year's DX-4200-11–does an excellent job of delivering a good mix of power and features. As a mainstream PC, the DX4831-03 is tough to beat, especially for its $850 price (as of June 7, 2010).
The DX4831-03's 3.2-GHz Core i5-650 processor is actually a more advanced chip than the 2.88-GHz Core i5-750 found in the DX4831-03's chief competitor on our Top 10 Mainstream Desktop PCs chart, the Micro Express MicroFlex 75B. With 8GB of DDR3-1333 memory and the ability to overclock automatically to 3.46GHz, the Core i5-650 helps the system chug to an excellent score of 131 on our WorldBench 6 suite of tests. This puts this machine's general performance on a par with the MicroFlex 75B's score of 132.
The Gateway system's 1TB of storage crushes the MicroFlex 75B's relatively puny 150GB. But Microflex's machine is the clear winner in graphics performance: Its ATI Sapphire 4890 graphics card sustained a frame rate of 82.0 frames per second on PC World's Unreal Tournament 3 benchmark–much better than the 51.7 fps that the DX4831-03's nVidia GeForce GT220 card managed on the same test under the same conditions (tested at 2560 by 1600 resolution, at high quality).
Inside the DX4831-03's jet-black chassis, there's no room for additional 5.25-inch devices; but the system already includes a pair of optical drives–a Blu-ray/DVD reader and a separate DVD burner–beautifully hidden behind two folding panels on the front of the system's glossy case.
Elsewhere in the case interior, amidst the system's cluttered internal wiring, are three screw-filled 3.5-inch bays for additional devices or hard drives. The motherboard itself kicks in with three connectors for new PCI-based devices: two PCI Express x4 slots, and one PCI Express x8 slot.
The DX4831-03 comes with ample connectivity options. The front of the case hides two USB ports and a multiformat card reader. Two more USB ports appear near the tray on the top of the case. The system's rear sports two eSATA ports, six USB ports, one FireWire 400 port, SPDIF out, 7.1 surround sound, and one gigabit ethernet port, as well as a DVI port, an HDMI port, and a VGA port on the graphics board. The absence of USB 3.0 support is mildly disappointing but hardly shocking.
The included Gateway input devices are undistinguished. Despite being nicely designed to reflect the system's look at feel, neither the keyboard nor the mouse offers significant functionality beyond what their generic counterparts provide. The keyboard does include extra buttons for raising and lowering you system's volume , but that's about all.
Gateway's DX4831-03 delivers commanding general performance without breaking the bank. Though it costs a bit more than the similarly powerful Micro Express MicroFlex 75B, you get your money's worth: A 1TB hard drive, Blu-ray support, and a host of connection options make this system an ideal fit for people looking for nongamers.