At a Glance
Expert's Rating
Pros
Excellent general performance
Above-average connectivity for its class
Cons
Expensive components unbalance the price-to-performance ratio
Our Verdict
HP's Z200 offers category-leading performance for business-class desktops, but its premium components will cost you.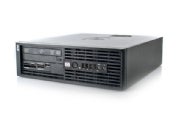 HP's Z200 Workstation SFF desktop is a compact system designed for business users. Packing impressive performance in its modest dimensions, the machine costs just over $2000 (as configured, as of June 1, 2010). That price puts the Z200 on a par with other business-class machines we've reviewed, but comparably priced consumer desktops generally offer quite a bit more.
Inside the system's chassis rests a 3.33GHz Core i5-660 processor, plus 8GB of DDR3 Error Correcting (ECC) memory. Manufacturers commonly use ECC memory in servers, because it's designed to protect against critical errors that might otherwise result from component failures; ECC memory is also very expensive, which explains much of the Z200's cost. The PC is also outfitted with a 500GB hard drive, which houses Windows 7 Professional Edition. Though that storage space may seem small, some competing business machines are configured with even less: The HP Compaq 6005 Pro, for instance, provides 400GB, and the Compaq 8000f Elite has only 160GB.
Gaming benchmarks aren't much of a concern on business-centric machines; still, the system's included nVidia Quadro FX 380 graphics card failed to deliver playable frame rates during our tests. The Z200 did much better on our WorldBench 6 test suite, with a score of 139–better than the score of any other machine on PC World's Top 5 Business desktops chart, as well as among similarly equipped Mainstream desktop PCs. Some Performance desktop PCs, including the HP Pavilion HPE-170t, posted better performance at a significantly lower price, however.
The Z200 makes up for its undistinguished physical appearance with a user-friendly design. On the system's face you'll find five USB connectors and a multiformat card reader. On the rear are six more USB ports, one VGA connector, one DVI connector, a serial port, a gigabit ethernet port, and two FireWire 400 ports. Next-generation connectivity offerings include a DisplayPort connector on the motherboard, and a second DisplayPort connector on the Quadro FX 380 graphics board. All of these ports are readily accessible.
An access handle on the machine's side permits tool-free entry into the case interior, but there isn't too much to do once you're inside. The two free slots consist of one PCI-E x4 slot and one PCI-E x1 slot; the Quadro graphics board occupies the remaining PCI-E x16 slot. Though the internal components aren't screwless, drive bays are housed on locking hinges. These can tilt out of the way, making it easy to reach in and swap out components. In the absence of free drive bays, the only way you can upgrade the DVD burner or the hard drive is by swapping out the existing component. The Z200 is powered by an 89 percent efficient 240-watt power supply. Its relatively low wattage further limits your upgrade options, but it will help keep your utility bills low.
Bundled with the Z200 is HP's Performance Advisor software, which simplifies system performance tuning, driver tweaking, and system resource monitoring to keep the machine in prime operating condition.
Like the chassis, the included keyboard and mouse are strictly utilitarian. Though they're comfortable enough to use, they offer no additional buttons or functionality.
The HP Z200 has a lot to offer, but its price pushes it to the cusp of the performance desktop category, where you can pay $600 less for a better performer like HP's HPE-170t. For buyers interested in using as little space as possible, the mainstream HP Pavilion Slimline s5370t has a similar profile and costs even less, without sacrificing too much performance.
With ECC memory and a compact chassis, the Z200 offers a stable, fault-tolerant platform for getting things done. If you aren't perturbed by a case design that leaves little room for upgrades, the Z200 will repay you with ready access to its innards, making any repairs or component changes simple to perform. But if your business's needs are flexible, bear in mind that opting for a consumer machine will save you a bundle.