Multitasking is a common, even expected activity–both in our daily lives and in our gadget-driven lives. Steve Jobs freely acknowledges that Apple has been late to the multitasking party, but that's changing with iOS 4. Though Apple's iteration of multitasking may be long overdue, my early hands-on time with the iPhone 4 shows that the company is delivering on its promise to make multitasking work smoothly, and in a way that won't drain battery life.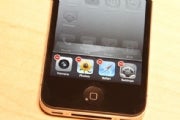 According to Apple, applications have two basic states: running and suspended. iOS 4 tries to keep as many eligible apps running as it can hold in memory at one time; the other apps remain suspended.
The ones that will run in the background–even as you operate another app in the foreground–are typically those that have actions that must be performed in the background, such as navigation, music streaming, or VoIP (but surprisingly, not instant messaging apps). As a result, your GPS app, for example, could continue to track your progress and give you directions regardless of whether you're on the phone, listening to audio, or performing some other task.
TomTom is the first GPS app maker to announce its support of iOS 4's multitasking. Currently, if you're driving and the TomTom app is running, the application drops and closes when you accept a phone call. After you complete the phone call, the app automatically resumes your route and recalculates your position–but the lost time without directions puts you at risk of missing a turn. With the new multitasking capability, you'll be able to talk on the phone or play music, and continue to see the map view and receive turn-by-turn visual directions. And if you have another app on the screen instead, the TomTom app will run in the background and continue to provide audio directions.
Most apps, Apple says, will remain in a suspended state; these apps are frozen at where you last left off, and should resume instantly. This was the case when I tried some apps on a demo iPhone 4 (including Photos and Safari), but my final assessment of how well this approach works will remain on hold until I can try an app such as AOL Instant Messenger. Developers will need to tweak their apps to take full advantage of the new multitasking capabilities.
Similar to Android's approach to multitasking, iOS 4 keeps track of which apps have been used more recently and which take up more memory than others. Apps will be purged from the suspended state if the phone runs out of memory. The Apple spokesperson I talked with declined to specify how much memory is involved, but he did confirm that the memory is dedicated system memory, and has nothing to do with the available storage space on the device.
With no app-management tool, users will have to trust iOS 4 to make the correct decisions about what's available via multitasking. If you want to close an app out of memory, however, all you do is double-tap the home button to bring up the multitasking bar, which pops up from the bottom of the home screen. Then, you simply scroll through the icons, find the one you wish to close, press and hold the icon, and then click the red circle with a dash–Apple's visual representation of a delete symbol.
Hands On With Multitasking
When you invoke the multitasking bar, flick horizontally to find the app you want, and click the icon to return to that app. If the app is written to take advantage of this new feature, it will pick up precisely where you left off. At the very least, reaccessing the app will be faster, since you won't have to go back and forth to the home screen to do so.
For example, in the side-by-side tests I did with an iPhone 3GS (running iPhone OS 3.1) and the iPhone 4, I navigated between the Safari Web browser and the Photos application, back again to Safari, and then back once more to Photos.
On the iPhone 4 using iOS 4, the phone jumped quickly and smoothly between the apps, with virtually no pause or hesitation. I left a fully drawn Web page in Safari to go to Photos, navigated to a folder within Photos, and then moved to a picture in the middle of that folder. When I popped back to Safari, I resumed at the fully drawn Web page, and when I jumped back to Photos, I was looking at the same photo I'd left moments earlier.
That same exercise on the iPhone 3GS required the Web page to load initially. Then, to change apps, I had to press the home button to exit Safari. I then went into the Photos app and found my image in its album. To go back to the browser, I pushed the home button to return to the home screen and then clicked on Safari. (On one pass, the page loaded immediately; on another, it did not.) I then pressed the home button to return to the home screen, selected Photos again–and found myself back at the top-level list of Photo Albums, as opposed to drilling down to a specific image within a particular folder.
From that exercise I gained a solid first impression of how multitasking on the iPhone 4 works. The multitasking bar makes swiping among open apps–and killing apps you no longer need open–easy. But the real proof will be in the usability of this feature over time: Will we see any degradation in the phone's battery life or performance, or will Apple's implementation of multitasking keep users humming along? We'll revisit this topic once the iPhone 4 is widely available and a multitude of apps support the multitasking feature.