A couple months back I gave you some tips on how to customize Windows Media Center, my onetime favorite Microsoft media management system. I'll be honest: I've been thinking seriously about cutting bait. My cable provider, Comcast, recently made the switch to all-digital broadcasts, meaning my analog tuners are now worthless. I can tune in only local channels and a handful of others.
Nevertheless, I'm sticking with it for now–in part because I'm holding out for forthcoming CableCard tuners, which will finally give me access to digital and HD channels, and in part because I still like so many other WMC features: photo slideshows, the jukebox, Netflix streaming, and so on.
Consequently, I've been looking into ways to spruce up the place. This week I'll tell you about some things you can do to jazz up WMC's interface. As an added bonus I'll answer a reader's question about watching Blu-ray movies on a PC.
Change the Color Scheme
Let's start with the color scheme. The default blue is lovely, but maybe you'd like to try something else. Fortunately, WMC gives you a couple other choices.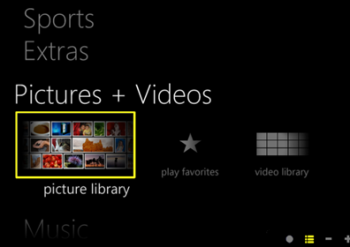 To access them, start WMC, navigate to the Settings menu, and then choose General. Now click Visual and Sound Effects and check out the Color scheme section.
As you can see, the current selection is Windows Media Center standard. Your other choices: high contrast white and high contrast black. Not too exciting, I'll grant you, but they do look pretty cool.
Use a Custom Background Image
Okay, so we talked about changing Windows Media Center's basic-blue color scheme to a bolder black or white.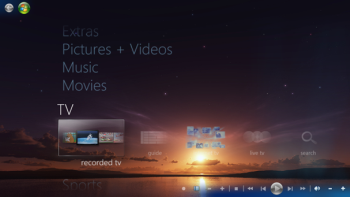 Not too exciting, right? Hey, at least the option is there if you want it. But I think most folks looking to trick out WMC would prefer a custom background image–something like this, perhaps.
Nice, huh? To outfit WMC with your wallpaper of choice, you'll need a free tool: Media Center Studio. Download and install it, then meet me at the next paragraph.
The first step is to choose the background image you want. If you already have something in mind, great. If not, you can find any number of great wallpapers at sites like InterfaceLift. Just be sure to select a resolution that matches (or at least comes close to) your monitor's. Also, the image needs to be in JPEG or PNG format.
Ready to get started? Run Media Center Studio, then complete the following steps:
Click the New button to create a new theme, then click Biography in the lefthand pane. Type a name in the corresponding field.
Click the triangle next to Images, then expand Common, Background. You'll see a list of image files below.
Click the first one, COMMON.ANIMATED.BACKGROUND.PNG, and then click the Browse button. Navigate to the folder containing the image you want, select it, and click Open.
Repeat step three, but this time for COMMON.BACKGROUND.PNG (which is a bit farther down in the file list). Choose the same replacement image.
Now click the Home tab, then click Save.
Click the Themes tab next to Home (above the toolbar), and then click the lower Themes tab (below the toolbar).
Click your newly added theme (in the righthand pane) and then click Apply.
Exit Media Center Studio, start Windows Media Center, and enjoy your new background image.
That's a lot of steps, I know, but the end result can be pretty cool. By the way, I can't take credit for this: the instructions came from the How-To Geek.
Reader Q&A: Watch Blu-Ray Movies on Your PC
Reader Anibal is looking to outfit his PC with a Blu-ray drive and wants to know if there's any good, low-cost (or free) software for watching Blu-ray movies.
In a nutshell: no. I mean, you have choices when it comes to software, but plan on spending anywhere from $40 (the current price for Corel WinDVD Pro 2010) to $95 (for CyberLink PowerDVD 10 Ultra 3D). A third option, ArcSoft TotalMedia Theatre 3 Platinum, sells for around $90.
That was a little more palatable when standalone Blu-ray players were selling for upwards of $400, but now that you can find them for as little as $100, it really begs the question of whether a PC-based Blu-ray solution makes sense.
For one thing, you have to buy the drive. A quick check of sites like Newegg shows an average price tag of around $100. (On the plus side, some drives do come with one of the aforementioned Blu-ray programs, though usually an older version. Windows 7 compatibility is not a given.)
Then you have to make sure your PC and video card can manage a Blu-ray-optimal resolution (1920 by 1080 pixels), and that the latter supports HDCP, the form of copy protection employed by Blu-ray discs. Your monitor needs to support that protocol as well.
Let's face it: Blu-ray is overkill for watching movies on the average 22-inch LCD. Unless you're connecting your PC to a big HDTV (I'd say 42 inches or larger), I really don't see much point in having a Blu-ray drive.
Based on personal experience, I think watching Blu-ray movies on a PC is more hassle than it's worth. It's costly, frequently aggravating (I had to jump through considerable hoops to find the right driver for my video card before any movies would play), and just plain inconvenient compared with using a standalone Blu-ray player.
If you've got a hassle that needs solving, send it my way. I can't promise a response, but I'll definitely read every e-mail I get–and do my best to address at least some of them in the PCWorld Hassle-Free PC blog . My 411: hasslefree@pcworld.com . You can also sign up to have the Hassle-Free PC newsletter e-mailed to you each week .