Microsoft put the last piece of its online office suite puzzle in place Monday, officially launching its Web-based suite of Microsoft Office applications called Office Web Apps. However, the biggest news isn't that you can use these Web apps — many have been in beta for a while now — rather, it's Microsoft's introduction of an online version of its popular software program Word, a word processing program.
This week's ribbon cutting of Microsoft's Office Web Apps is significant. Google has posed a serious challenge to Microsoft when it comes to offering compelling Web-based alternatives to desktop software programs, namely Microsoft's Office software franchise. Starting this week Microsoft has all its skin in the game with its Office Web Apps to go mano-to-mano with Google's online office suite, Google Docs.
What follows is a look at Microsoft's newest offering, Word Web App, which was introduced Monday with the kickoff of Office Web Apps. I'll be comparing Microsoft's Word Web App to Google's online word processor, Docs. I'm focusing on Word because it's new, but also because unlike Microsoft's online version of OneNote, word processing has the widest appeal.
Getting Started
To get started with Microsoft's Web-based suite of Office applications visit office.live.com, type in your Windows Live ID (such as a Hotmail address), and you can use Web-based versions of Microsoft Word, Excel, PowerPoint and OneNote right in your browser. All your files are created and stored in SkyDrive, which offers every Windows Live user 25GB of online storage space for free.
I tested Microsoft's Word Web App in a variety of browsers and on the Windows 7 and Mac OSX operating systems. Based on that assessment, here are a few likes and dislikes for Word compared to Google Docs.
Dislike: You can't download or use multiple formats
Microsoft's Word Web App only allows you to create documents only in the DOCX format introduced in Microsoft Office 2007. But users haven't really embraced the relatively new format and most have stuck with using the more familiar DOC format used in Microsoft office until 2003. With Microsoft's new Word Web app, however, it's DOCX or nothing.
Contrast that with Google Docs, which uses its own HTML-based format within Google Docs, but allows you to download word processing files as rich text, plain text, PDF, HTML, OpenOffice format or as a DOC Word document.
Dislike: Open In Word
The Word Web App allows you two choices for getting your documents off the Web and onto your desktop. You can open your Web App file directly in the desktop version of Word, or you can download the file directly to your desktop from SkyDrive. Opening a document in Word is an interesting option because it allows you to edit a document on your desktop, but your work gets saved to the original file stored on SkyDrive.
To open your document directly in Word, however, you need to be running Microsoft's ActiveX framework. This means that Mac users won't be able to use the Open in Word feature, and will lose the ability to edit files on their desktop and save work directly to the cloud. To use the Open in Word feature, Microsoft says you have to be using either Internet Explorer or Firefox. Other browsers such as Opera, Chrome and Safari won't be able to use the Open in Word feature. (Click image below to enlarge)

The other option is to download your file, and that's pretty straightforward. You hover over the document name, and select 'download' from the 'More' drop down menu, and then the file gets saved to your desktop. But in my tests, I couldn't download Word documents at all using Firefox for Mac, although the functionality worked just fine on Safari and Chrome for Mac.
Google Docs, on the other hand, only gives you the option to download your files. But downloading from Google Docs always works no matter which Web browser or operating system you're using.
Dislike: Buggy
While I was writing this post using the Office Word Web App in Safari, the page froze on me and the Web App crashed. This little event caused me to lose about half my work, and that would never have happened in Google Docs thanks to its autosave feature.
The Office Word Web App can also behave strangely from time to time. Using Google Chrome, I reached the bottom of the page in a document I was editing, when all of sudden the document started to bounce as I typed. That was incredibly annoying, and made it almost impossible to continue working. Again, that never happens in Google Docs.
Like: Version History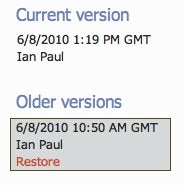 Microsoft's Web Apps offer you a version history page, which is a great help if you're collaborating with others on a document. Version history shows your document in the main window with a sidebar on the left noting who the last person was to access the document. Clicking on previous versions allows you to see what the document looked like before changes were made, and even gives you a restore option to go back to older versions. (Click image to enlarge)
Google Docs also offers a version history feature, but I found Microsoft's solution to be more straightforward and easier to use.
Like: Minimize the ribbon

If you don't like Microsoft Office's Ribbon that houses the application's features and tools you can easily get rid of it in the Word Web App. Just click on the little arrow on the far right directly above the Office Ribbon and it's gone. Now you can edit your document with a much more simplified interface. To restore the Ribbon just click on the arrow again or select one of the Ribbon tabs such as Home, Insert or View. (Click image above to enlarge)
Like: It's Word in your Web browser
Despite some misgivings about Microsoft's new Office Web Apps, you do get to use a Web-based version of Microsoft Word for free. The interface is familiar, and except for a few browser nuances, the Word Web App functions just as you'd expect. Microsoft is off to a pretty good start with the Word Web App. All they need to do is figure out how to extend browser support and get rid of the bugs, and this will be a great Web-based word processor.
But right now I wouldn't recommend using the Word Web App as your primary word processor. Keep in mind that if you don't save often enough, a programming conflict or a disrupted Internet connection could cause you to lose your work.
Connect with Ian on Twitter (@ianpaul).