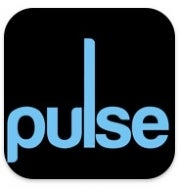 The New York Times Company created a stir by demanding that Apple remove an RSS reader iPad application from the App Store only to see the application reappear hours later. The application in question is called the Pulse News Reader ($4) by Alphonso Labs, and was created by two Stanford University students Akshay Kothari and Ankit Gupta. Ironically, the iPad app had been given a glowing review in the Times one week before Times Company lawyers objected to it. Apple CEO Steve Jobs also featured the iPad application during his WWDC keynote address on Monday calling Pulse "a wonderful RSS reader."
Pulse lets you subscribe to up to 20 RSS feeds, and presents new articles as a series of tiles using photos from the articles. You can also share articles you've read on Pulse via e-mail, Facebook and Twitter. Pulse also comes preloaded with some suggested news feeds including content from The New York Times. Pulse is available for $3.99 in the App Store.
Pulse Drop
A glowing review in the Times and getting mentioned during an Apple keynote would be enough to drive sales for most iPad apps through the roof. Instead, however, Alfonso Labs which developed Pulse were notified by Apple that The New York Times Company was demanding Pulse be removed from the App Store, according to All Things D . Pulse, according to the Times' take down request sent to Apple, made "commercial use" of RSS feeds for two of the company's newspapers: The New York Times and The Boston Globe. The Times Company also objected to the fact that Pulse framed other content around The New York Times and Boston Globe feeds, another violation of the company's terms.
Pulse reappears
After receiving the take down request, Apple removed Pulse from the App Store by late Tuesday, according to a variety of reports. However, at the time of this writing, Pulse was back in the App Store and available for purchase. It's not clear why the Pulse was reinstated, and even the Times Company was baffled by its return.
"We think it has been reinstated by error, and we have asked Apple for an explanation," Robert Christie, a spokesman for the Times Company told The New York Times' technology columnist Brad Stone .
All Things D is reporting that Pulse was reinstated because Alphonso Labs submitted a new version of Pulse that did not come preloaded with content from the Times or the Globe. It's not clear, however, whether that change will be enough to satisfy the Times Company's lawyers. The New York Times Company did not immediately respond to requests for comment, but I will update this post with a response when available.
Connect with Ian on Twitter (@ianpaul ).