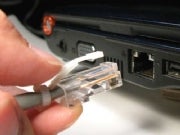 Have you ever broken the connector on an Ethernet cable, but didn't want to go out and buy a replacement? If you only have one or two broken cable heads, it's probably not worth it to find a crimper and new RJ45 connectors. This quick, clever, and inexpensive hack from Instructables makes quick work of repairing a snapped Ethernet connector with a razor, cutting pliers, and two cable ties.
Measuring the cable ties is very important: a head width of 4.33 mm is the right size to properly snap into the RJ45 socket and be removable with only a bit of resistance. After sizing, cut down the head of the cable tie to make it flat, then attach the tie to the cable with the second tie. With a little bit of adjusting and bending, you should get the repaired plug to produce that satisfying "click" as it's inserted into the RJ45 jack on your laptop or desktop!
Repair a Broken Ethernet Plug – More DIY How To Projects
Did you try out this quick fix at home? Let us know in the comments how it went.
[Instructables user laxap via Hack a Day]