Google announced the completion of its new web indexing system, called Caffeine, in a blog post Tuesday. According to Google, Caffeine will provide at least 50 percent fresher results for web searches than its last index.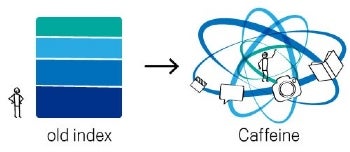 Google started testing Caffeine in August 2009, and it was suggested that Caffeine would go live "after the holidays."
Google's old search index consisted of several layers, some of which were refreshed at a faster rate than others–the main layer updated every couple of weeks. Basically, this meant that content was not added to the Google search index until a layer was refreshed, so there was a significant delay between publishing content and having it show up on the search engine.
Caffeine analyzes the web in small portions, instead of analyzing the entire web, and updates the search index constantly. So, instead of having to refresh an entire layer, Caffeine can add new pages directly to the search index–hopefully, this means that pages will appear in the Google search index faster than ever.
According to Google, Caffeine takes up almost 100 million gigabytes of storage and adds information at a rate of hundreds of thousands of gigabytes per day. Google says that "if this were a pile of paper it would grow three miles taller ever second"–that's how quickly Caffeine can index webpages.
Caffeine went live in the last few days, and is now being used in all Google searches. If you're just a regular internet-trolling search-engine user, this means that you may start seeing different search results–hopefully more up-to-date, relevant news stories and blog posts.
If you're a business user, or if you otherwise utilize search engine optimization techniques in order to get your pages indexed and ranked by Google, however, Caffeine may affect you (at the moment, it's unclear exactly how it will affect you–though I imagine it may act as a stimulant and cause you to lose sleep, heh). After all, something that affects search engine results will certainly affect the practice of SEO.