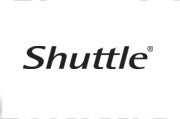 Crysis on an 11-inch notebook, anyone? If you're hungry for more graphics processing power on your ultraportable, Shuttle might have just the device for you.
The i-Power GTX Mini External Graphics Device is a portable graphics card enclosure that connects to Shuttle notebooks through a modified HDMI port. Geared toward gamers and designers who want more "oomph" from their machines, the device lets you take a small graphics card or even a TV tuner and connect it to your laptop, where it'll do the graphics processing for your portable system. Future versions will accommodate longer GPUs such as Nvidia's GTX 480.
The catch? It only works with Shuttle's SPA and Micro SPA notebooks, but Shuttle will be trying to convince other laptop makers to adopt their standard for connecting GPUs externally. According to Shuttle, the i-Power GTX Mini External Graphics Device will be available in the next few months, and the enclosure will run you somewhere between $150 and $180.
Is this external graphics enclosure something you'd be interested in for your ultraportable, or would you just go out and buy a mammoth gaming laptop instead? Sound off in the comments!
Like this? You may also enjoy…