Box.net, a privately-held company based in Palo Alto, Calif., is launching new functionality today with Box Sync. Box Sync provides businesses with the tools to automatically sync files from the local desktop to the cloud and vice versa to simplify content management and improve productivity.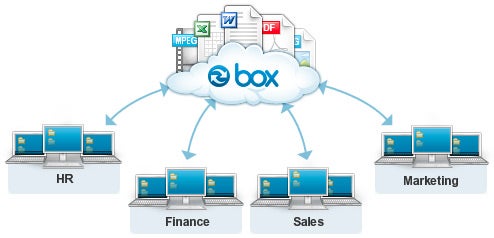 The problem with files stored on the local desktop is that they are inaccessible from alternate devices or locations. If a salesperson is at a customer site and needs to access the latest production schedule stored in their desktop in order to estimate delivery dates for the client, they are out of luck. The solution to that dilemma is to store the files on a Web-accessible server, or in the cloud itself, so that the data can be accessed virtually anywhere and anytime as long as there is a working Internet connection.
But, what if there is no working Internet connection? It turns out that the opposite problem is also a concern. What if the files are all stored in the cloud, but the salesperson can't get an Internet connection to access them? In that case the salesperson might be grateful that there is a copy stored locally on his laptop.
With an increasingly mobile workforce, either or both of these issues occur more frequently. What is needed is a hybrid solution that lets users store data on both the local computer and in the cloud, and simplify syncing the data between the two so there is minimal effort required of the user.
Rob Koplowitz, a principal analyst with Forrester explains, "When the information that workers need exists in separate, non-integrated systems, the process of gathering all relevant information to make informed decisions becomes complicated."
"Businesses today face a major information challenge– they need to centralize and manage massive amounts of crucial content, while also reducing their reliance on costly, high maintenance infrastructure," clarified Aaron Levie, co-founder and CEO of Box.net, in a press release announcing Box Sync. "Traditional enterprise content management systems like SharePoint are now looking to the cloud to address this issue, but take a disjointed approach with separate on-premise and cloud-based products."
Levie added "At Box, we're providing a compelling alternative by building a seamless bridge from the desktop to cloud content management, with Box Sync as an extension of our core platform. We think this approach will prove disruptive, with immense cost savings and productivity benefits for businesses."
Box Sync makes it easier to share files and collaborate with peers or partners via the cloud. Box Sync provides conflict management to prevent users from overwriting each other on the same file, and alerts to notify collaborators when relevant files are created or updated.
Box.net is not the first to offer such a service. Google Docs, along with Google Gears, provides a capability to work with files from the Web, or locally when not connected. Microsoft, which just launched Office Web Apps–providing free Web-based versions of the core Microsoft Office applications–has the Skydrive for online storage, and Windows Live Sync for syncing data from one place to another. Box Sync offers a simpler, more versatile, cross-platform solution, though, which is worth taking a look at.
According to the Box.net press release, "Box Sync will be rolled out for free to Box business users in waves over the summer, with a modified version made available to the remainder of Box.net's 4 million users later in the year. Launched initially for Windows, Box Sync will soon extend to Mac OS and Linux platforms."
You can follow Tony on his Facebook page , or contact him by email at tony_bradley@pcworld.com . He also tweets as @Tony_BradleyPCW .