Eight months after integrating Twitter into Bing's search results, Microsoft is adding the big dog of social networks to its search results: Facebook. User can now visit Bing.com/social and parse through both Twitter and Facebook status updates and see what topics are trending. But with all of Facebook's recent troubles with privacy, what is Microsoft doing to protect us?
Breathe easy: as of now, Bing only displays information from Facebook fan pages and popular shared links posted on personal pages, and only in aggregate.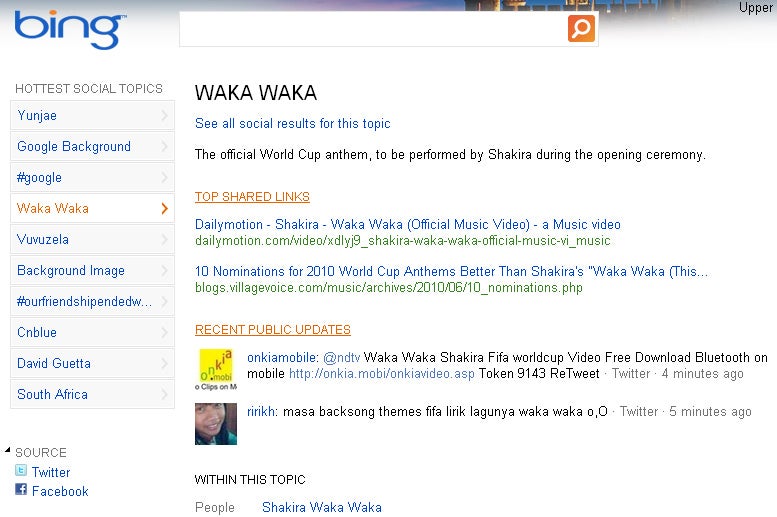 (Click on image to see an expanded view.)
Microsoft, which recently blew out the candle on Bing's first birthday, is being very careful about this. In a blog post, Microsoft stresses it'll only be touching the rudimentary when it comes to personal Facebook profiles. "For non-fan pages, we only surface popular shared links from Facebook users in the aggregate form, and only from users who have set their status updates to be shared with 'everyone.' No names or photos, or even the text in the update associated with the link are published — just the link in aggregate."
Google also has its own social search site, still in beta, and Yahoo recently announced a deep integration with Facebook. There exist many concerns about what lurks within social search, including the indexing system; archival; and junk Tweets. (Also, in my opinion, Bing's social search site is hideous. Just sayin'.)
Maybe I'm getting ahead of myself, prophesying exposure that'll never arrive, but I have the feeling that later on, users will be given the opt-in ability to broadcast their Facebook status updates on the Web. On its face this would be a smooth move for both Facebook and Bing — it would increase traffic to both sites and also perhaps connect like-minded individuals in a way that has all but vanished.
Flip the coin, however, and picture the social index getting hacked, or a devastating bug landing on the site. Even if Bing doesn't broadcast identifying data, it has that identifying data, and all that can leak. Now would be a good time to tweak your Facebook privacy settings.