At a Glance
Expert's Rating
Pros
Discrete (if limited) graphics
Compact, truly thin and light
Cons
Audio from speakers is poor
Long battery life only with bulky 8-cell battery
Our Verdict
Dell offers a highly functional small-business laptop in an attractive, lightweight package.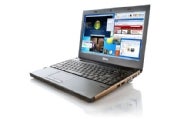 Dell's Vostro 3300 inherits its svelte design and thin esthetic from the original Dell Adamo design, though the 3300 isn't quite as skinny or light as the Adamo. Even so, Dell's new small-business laptop offers combination of hardware and support options well tuned to its target market. With Dell's current discounts, the Vostro 3300 starts at $599 (as of 6/18/10). The price of the configuration we tested is $913.
At a little over 4 pounds with the bulkier 8-cell battery (5.2 pounds with the power brick), the Vostro 3300 won't strain your shoulder as you lug it along on your daily travels. That weight includes a tray-loading DVD recordable drive, so you're not sacrificing optical storage just for thinness. The 13.3-inch, LED-backlit screen offers a matte finish, something we'd like to see more of, since the glossy screens that seem so common these days can be annoying to use in most normal lighting situations.
Our test unit included a dual-core Intel Core i5-520M CPU running at 2.4GHz, though it can push as high as 2.93GHz when running in turbo mode (with one CPU core active). And nVidia's discrete GeForce 310M graphics processor is a welcome addition. The 310M offers limited 3D performance and isn't well suited for gaming, but it will offload other graphics chores from the CPU, like Windows Aero and DVD playback. It's may also prove useful with the emerging generation of GPU-accelerated applications. Alas, the Vostro doesn't take advantage of nVidia's Optimus automatic GPU-switching technology.
Performance is about what you'd expect, posting a score of 112 on WorldBench 6–slightly above average, but not exceptional for this class of laptop. You can run some games on the Vostro, but I suggest you steer away from leading-edge titles, and stick with DirectX 9 mode in whatever game you run. Even then, you'll need to dial down the game's graphics features to get good performance.
The display offers good color rendition and, despite the lack of glossy finish, is more than bright enough for daily use. DVD upscaling was fine with the DVDs we tested, including HBO's Band of Brothers DVD set and Serenity. We also checked out a couple of 1080p WMV HD files, and, as expected, those looked pretty good too.
I can't say much good about the audio, however. The Vostro appears to have only a single speaker, on the left side of the unit, and its tonal balance is far from accurate. It's far better to just bite the bullet and use a good set of headphones or in-ear phones for listening to music or movies.
The port selection is good, with three USB 2.0 ports–two on the right and one on the left. One of the right-side ports is a combo USB/eSATA port. The 3300 lacks FireWire capability, but that's increasingly less important. A 5-in-1 flash memory card reader is built into the front, next to the audio input and output jacks.
Network connectivity was trouble-free in our network environment, which is built around a Netgear WNDR 3700 wireless router. The Vostro also comes equipped with a now-familiar gigabit ethernet port. Our test unit lacked wireless broadband capability, but Dell does offer a wireless 3G card as an option.
The Vostro 3300's performance also seemed good subjectively. We opened the latest version of Google's Chrome browser with 31 active tabs (including a number of flash-heavy sites) and ran Windows Live Writer at the same time. Typing still seemed responsive, and browsing performance was snappy. Documentation is sparse, limited to online help that's not particularly robust.
Overall, the Vostro 3300 hits a solid combination of features in a sleek, compact package. Dell has managed to make an ultrathin small-business laptop that's just a little sexy, but also just boring enough not to attract too much attention.