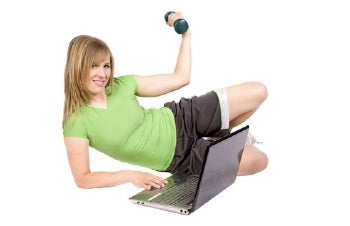 With personal trainers producing YouTube fitness videos, iPod Nanos sporting pedometers, and yogis practicing tree pose using the Wii Fit–technology has become one of the best ways to set and maintain fitness goals. We consulted sports professionals, fitness enthusiasts, and tech companies to find the latest and most interesting hardware, software, and Websites that you can use to get in shape and stay the course.
General Fitness Gadgetry
A portable music player is still as important to workouts today as it was when the first wave of yellow Sony Walkmans hit gyms in the early 1980s. (For more tech oldies, see "The 50 Greatest Gadgets of the Past 50 Years.") One new fitness-focused model is the Philips Activa ($130), which adds workout software to a combination portable media player and FM radio. Enter your age, weight, and height, and the Activa will count calories, time, or distance as you engage in an activity such as running, cycling, or rowing. Use the TempoMusic feature in conjunction with the up and down arrows to find songs that match your speed, so you won't find yourself listening to speed metal during your cooldown. Need a little encouragement? Program a male or female voice to update you (whenever you hit the Boost button) on calories burned, distance covered, or simply the virtues of staying the course. Plus, you can download all of this information to your PC and track it over time.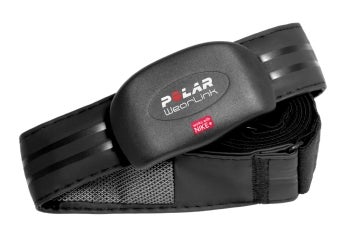 The ultimate athlete's gadget is a heart-rate monitor. Polar, a popular maker of heart-rate monitors, has recently teamed up with Nike, which makes the Nike+ SportBand and iPod Sport Kit, to create the Polar WearLink+ Transmitter Nike+ (street price $70). This awkwardly named chest strap, slated to be available before the end of June 2010, transmits your heart-rate data to Nike+ devices for upload to the Nikeplus.com Web service for tracking over time. It's compatible with the fifth-generation iPod Nano and Nike+ iPod Sport Kit.
Want the pedometer sans the iPod? Released last year, FitBit ($99) is a souped-up pedometer that uses a 3D motion sensor to track your walks and runs, count your calorie intake, and even gauge how well you slept based on movements you made during the night. Wear the tiny clip at all times (in an included wristband while you sleep) and when you walk by the bundled base station, the FitBit will transmit data via a close-range wireless signal to FitBit.com, where you can track your activity over time. The base station also charges your device. The FitBit is made for walking, running, and general everyday activities. It won't accurately measure long bike rides, however, and it isn't waterproof so don't swim with it.
Next: Nutrition and Weight Loss
Nutrition and Weight Loss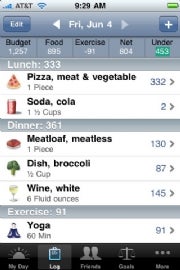 A multitude of weight-loss Websites and applications serve up huge searchable databases of different foods and exercises to help you count calories, analyze nutritional information, and use portion-control systems to dial down the pounds safely. But these services are only as good as the information that you put into them, and remembering to note every carrot and candy bar can be a pain in the very posterior that you're trying to slim down. Mobile apps such as Lose It (free), available for iPhone and iPod Touch, have made the task of logging in data about your meals a lot more spontaneous because you always have the app with you.
"I'd go and do it four times a day," says Kirsten Owen, a Bar Method instructor and former triathlete who used LoseIt to sharpen her awareness of what she was eating. LoseIt's database contained entries for a lot of the foods Owen ate, though its litany of prefabricated packaged foods didn't match her preference for cooking from raw ingredients or eating at restaurants. Still she was able to use the app's Recipe feature to determine the caloric make-up of her home-baked cookies and muffins. You can register for a LoseIt account to obtain more-detailed reporting, data backup, and a method for sharing results with friends.
If you're more comfortable using PC software, you might like DietPower 4.4 ($30), which lets you track 33 nutrients in more than 21,000 foods. It also has tools that encourage you to adjust your eating throughout the day by telling you which items you should be eating more of (skim milk) or less of (fudge). As with LoseIt, you can count carbs and cholesterol. The 4.4 version also lets you track trans fats, and enter portions by volume or weight.
If you want to feel as though an actual human were determining your food fate, try Nutrition for You ($10 per month). Gina Gutierrez, general manager of San Francisco-based Diakadi Body Personal Training, calls it a great tracking system. "Our clients have used it quite a bit and have seen a lot of success from it."
Developed by sports nutritionist Manuel Villacorta, Nutrition for You creates a customized dietary plan based on your age, activity level, resting metabolic rate, dietary restrictions, and fitness goals. You use the Website to track what you eat and to read fitness news, tips, and recipes. If you need a little more help, you can sign up for 30-minute consultations with a registered dietitian at about $30 a pop, depending on the number of sessions.
For some people, success takes the form of weight loss, and if that's the cohort you belong to, the Withings Internet-connected Body Scale ($159) can help you measure keep track of the vanishing pounds Wi-Fi-style. A thin black-metallic unit with a backlit display, the scale wirelessly transmits your measured weight to your Withings Web account. You and up to seven other users can track progress over time. If you're feeling especially confident (or triumphant), you can broadcast your results via Facebook or Twitter or more discreetly transmit them to fitness services such as DailyBurn and RunKeeper.
Next: Breaking Away: Running and Cycling
Breaking Away: Running and Cycling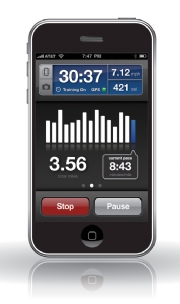 The RunKeeper app (standard version free, Pro version $10), coupled with your smartphone's GPS, lets you track the distance, time, pace, route, and even elevation of your runs, for a fraction of the cost of a traditional GPS device (assuming that you already own the phone). Free and Pro versions are available for iPhone. Only the free version is available to Android phone users. Marathon runner Teri Wong has used the free version of RunKeeper since fall 2009. She says that the GPS can't track some of her trail runs accurately, and notes that her iPhone's battery tends to run out after about 2.5 to 3 hours–"but for a free app, it's pretty handy!" The Pro version offers audio cues, supports iPod Playlist integration, and lets you record splits for interval-based training.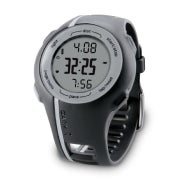 A good alternative for people who don't want to run with a smartphone is the Garmin Forerunner 110 ($250 with heart-rate monitor, $200 without), a GPS-enabled wristwatch that also tracks distance, time, and pace. It records laps and stores up to 200 hours worth of information, which you can upload to the GarminConnect Website. Two Forerunner styles (in black-and-red and black-and-pink color combinations) styles with a Garmin heart-rate monitor to track both your heart rate and your heart-rate-based calorie burn.
Abvio Cyclemeter ($5) gives cyclists a handy app of their own, and it bucks the trend of requiring you to create a registered Website account before you can track information. With the Cyclemeter, you do everything on the iPhone itself–recording times, routes, and distances. The more you record, the more Cyclemeter can tell you about how your most recent ride time compared to previous rides along the same route. Cyclemeter also pegs rides to a calendar, and it plays announcements at key points during your ride. You can post information about your ride on Facebook, and even use text-to-speech to hear comments back from your friends. Ditto for Twitter. The recently released version 3.0.3 lets you lower (rather than interrupt) music for voice announcements, and adds better calorie calculations for cycling.
The Zen Side: Golf and Yoga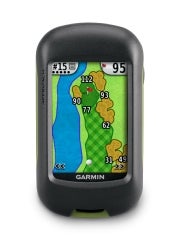 Technology can help with relatively low-impact sports, too. GPS guru Garmin courts golfers with the Approach G3 ($350), a compact, waterproof, GPS-enabled handheld loaded with more than 13,000 U.S. and Canadian course maps (European maps are available separately). Measure the distance to your next shot on the 160-by-240-pixel touchscreen (which Garmin says is viewable in sunlight). Use it to keep score and measure yardage to greens or to trees, and download data via USB to your PC. Unfair play, you say? Garmin hastens to assure you that that the Approach G3 is compliant with USGA rules.
Technology takes yoga home-practice beyond the DVD. Rainfrog's Pocket Yoga ($3) for iPhone, iPod, and iPad gives you 27 total practices broken down into three styles, three durations, and three difficulty levels. Because of the app's small screen size and nonanatomical 2D model, you'll have to rely heavily on the good-quality audio for guidance. And despite the comprehensive glossary of poses, you should be familiar with yoga to use this app successfully.
For the best yoga content, renowned San Francisco-based yoga instructor Jason Crandell recommends the free, 20-minute Yoga Journal podcasts (Crandell appears in several himself) and the paid high-definition online video offered at YogaGlo. YogaGlo's 60- to 90-minute classes are available now in 480p, and soon they'll also be available in 720p. Health tip: If you're combining yoga with other exercise, Crandell recommends that you start with the more cardiovascular-intensive workout and then make the transition into yoga, which is designed to calm the nervous system.