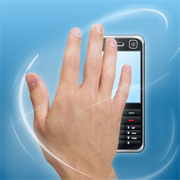 Looking to put a little more "Minority Report" in your life? Or maybe you're just tired of smudging the screen on your Android device? eyeSight Mobile Technologies may have the answer: Touchless gesture control.
Using a front-facing camera, eyeSight's "Touch Free" tech gives the user control over basic functions without the need to actual touch the screen. An early demo shows a user navigating a picture gallery, sending SMS, and placing a call, all with "swipe" gestures performed several inches in front of the device. A second demo features pause-and-play control of a music player using a momentary "hold" gesture.
While few portable devices currently feature front-facing cameras, several upcoming Android-based devices are expected to. Because the "Touch Free" solution is implemented in software rather than using a special type of camera, it should fare well on upcoming phones, in addition new devices, like Android-based tablets and music players.
Check out the video to see eyeSight's "Touch Free" technology in action.
[via HotHardware]