Are your YouTube videos so good they deserve to be in a museum? Thanks to a partnership between Google and the Guggenheim Museum in New York your you stand, at least, a remote chance. The search giant and one of the most famed museums in the world for modern and contemporary art are collaborating on a new project called YouTube Play: A Biennial of Creative Video. The project will showcase up to 20 video works submitted to YouTube at the Guggenheim in New York on October 21, and online at YouTube.com/Play . The videos will also be displayed simultaneously with the New York show on October 21 at other Guggenheim museums around the world including Bilbao, Spain; Venice, Italy; and Berlin, Germany.
Who can Play?
Play is open to any video maker in the world and submissions can include "animation, motion graphics, narrative, non-narrative, or documentary work, music videos and entirely new art forms," according to the official YouTube blog . Google says Play is designed to find "creations that really challenge the world's perceptions of what's possible with video."
To be considered for Play you have to submit your work of video art to YouTube.com/Play by July 31, 2010. All submissions will be reviewed by Guggenheim representatives who will then create a shortlist of video finalists to be considered by a jury. The panel evaluating the works will include Nancy Spector, deputy director and chief curator of the Solomon R. Guggenheim Foundation, as well as an unannounced "jury of experts from the worlds of art, design, film and video." You are only allowed to submit one video to Play.
What can you submit?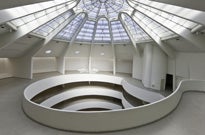 There are no specific guidelines for Play submissions such as a minimum or maximum video length. But a careful reading of the YouTube blog post and an introductory video about the project can yield some hints to point you in the right direction. The first point is to be original and come up with something new. "Show us something that hasn't been before, in the eyes of Guggenheim or in the eyes of YouTube," said Andy Berndt, vice president of Creative Lab for Google & YouTube. But that doesn't necessarily mean you can't submit videos that include sampling or remixing from other works, which is somewhat a YouTube tradition. It's just that any work submitted to Play "has to be done in an incredibly creative, self-conscious way," Spector said.
So what do you think? Are you up for the challenge? Any of you out there ready to become the next great artist of the 21st century? If so, YouTube is waiting.
Connect with Ian on Twitter (@ianpaul).