Technology is making it easier to keep yourself looking young and beautiful in photographs no matter how many wrinkles and gray hairs you get in real life. With Portrait Professional 9 ($70) by Anthropics, amateurs and professional photographers can touch up blemishes and wrinkles, and make more-sweeping changes, including thinning the face, plumping up the lips, lifting the eyebrows, and widening the eyes.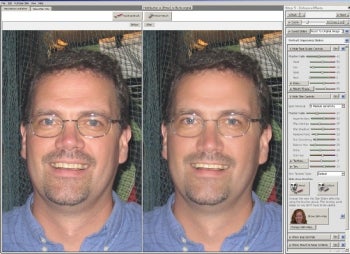 All you do is upload an image and mark five spots on it: the outside corners of the eyes, the tip of the nose, andthe corners of the mouth. Then adjust the points on the image to correspond to the features of the face, and click. In a few seconds, Portrait Professional 9 delivers a brand-new face. If more than one person appears in an image, the program lets you change each subject individually.
Portrait Professional 9 assumes that you'll use the presculpted face it creates as the starting point for further alterations. Once it has made its changes, a dialog box prompts, "Now You Enhance Your Photo." At that point, you're free to make your own changes using sliders at the right side of the screen, to increase or decrease each effect. This gives the user great control over the final look–as well as a simple learning curve to get started with the program right away.
I used the software as a hobbyist would, to enhance the faces of friends and family–in short, people I know. And once Portrait Professional had done its thing, I wanted to undo all of the face sculpting changes it made. Would my husband be more handsome with the longer and thinner nose the software gave him? Maybe, but I like his actual nose. And that's the problem with changing the structure of a face, whether in the name of beauty or of entertainment: There's a fine line between making someone look better and making someone look different. That said, the sculpting tools were fun and useful when applied sparingly to make subtle changes to, say, the lips or eyebrows.
Portrait Professional did a good job of smoothing out wrinkles, filling in dark circles, and evening skin complexions. It added shine to skin, whiteness to teeth, and vibrance to hair, and did so subtly enough to please anyone. Though it often created an overly airbrushed look, you can easily to use the sliders at the side to increase or decrease each enhancement and find the right balance. A couple of times, it didn't erase some blemishes, so I used the touch-up brush to finish the job.
For amateur photographers and photo enthusiasts, Portrait Professional 9 is an incredibly easy and fun tool that does a good job of enhancing people's beauty. One caveat: It didn't handle children's faces well in our tests, because its algorithms seem to favor thinning the cheekbones and nose to create a more chiseled look that many people consider beautiful in adults but that just looks odd in images of children.
The standard, stand-alone version of Portrait Professional 9 costs $70. The business version, Photo Professional Studio ($100), handles RAW files and 16-bit-per-sample color and is available as a plug-in for Adobe Photoshop.