My desktop occasionally fails to shut down properly. It seems to complete Windows' shutdown process, but then just freezes–without actually turning off.
Pressing the power button accomplishes nothing. So what option do I have left? Pull the power cord right out of the wall? That would certainly turn the system off–unless it was a laptop, in which case I'd have to remove the battery as well. What a hassle.
In the old days, computers had reset buttons. Now, it seems like there's no logical way to shut down a PC that's locked up.
Actually, there is–but as I learned from a recent e-mail, not everybody knows the procedure.
To force-shutdown a desktop or laptop, you need to press and hold the power button for about five seconds.
Then, wait another five seconds or so before turning the machine back on. Hopefully this is something you won't need to do very often, as a force-shutdown can hose up Windows or even lead to data loss. (Blame the initial crash for that, though.) But at least now you know how.
Solve Networking Hassles
Reader Nayana has two PCs on her home network–one running Windows XP, another running Windows 7. Curiously, the Windows 7 system won't let her access shared folders on the XP system, but it does work the other way around: she can access the Windows 7 folders from the XP machine.
Bleh. Windows networking has been a nightmare for as long as I can remember. Thankfully, Windows 7 solves a lot of the headaches–but only if all your PCs have it. If there's an XP box in the mix, problems like Nayana's are all but inevitable.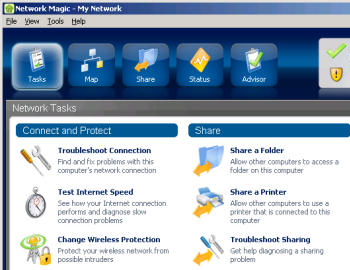 Much as I'm a fan of DIY fixes, tinkering with Windows' networking settings (especially XP's) is so confusing, frustrating, and frequently fruitless, I'm going to suggest a different (and much simpler) solution: Cisco Network Magic Essentials. Install this fantastic utility on both your PCs and in no time you'll be swapping files, sharing printers, and so on. Trust me: it's the path of least resistance.
The software costs $30, but there's a free 7-day trial. If your main goal is simply to migrate files and data from an old machine to a new one, that should be plenty of time.
One word of caution: For reasons I don't fully understand, Network Magic's system requirements make no mention of Windows 7. The software is compatible, but I suspect Cisco may have halted or abandoned its development–probably because of Windows 7 networking features like HomeGroup.
In any case, before you spend a lot of time trying to troubleshoot networking settings manually, give Network Magic a try.
Customize the Windows 7 Welcome Screen
When you start and shut down Windows 7, you're presented (albeit briefly) with a rather bland Welcome screen. Hey, we don't do bland around these parts!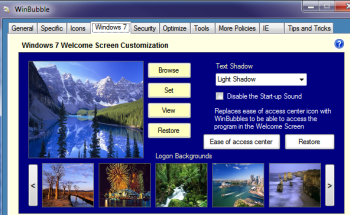 Allow me to introduce WinBubble, a free Windows-tweaker utility that lets you swap in a fancy wallpaper or just about any other image. In other words, you can now customize the Windows 7 welcome screen. Here's how:
Install and run WinBubble.
Click the Windows 7 tab.
Scroll through the available Logon Backgrounds (which are drawn from Windows' available wallpapers) and click the one you want. You can also click Browse and choose and JPG image on your hard drive.
Click Set to lock the new image in place, and then click View to get a preview of how it'll look. Not happy with the results? Choose something or click Restore to bring back the original background.
Now, every time you start or shut down Windows, you'll see the new background. It may appear for only a few seconds, but at least it's the image you want, not the one Microsoft sticks you with.
By the way, WinBubble lets you tweak about a zillion other Windows settings. Feel free to poke around, but keep in mind that this is something of a power user's tool. Proceed with caution.
If you've got a hassle that needs solving, send it my way. I can't promise a response, but I'll definitely read every e-mail I get–and do my best to address at least some of them in the PCWorld Hassle-Free PC blog . My 411: hasslefree@pcworld.com . You can also sign up to have the Hassle-Free PC newsletter e-mailed to you each week .