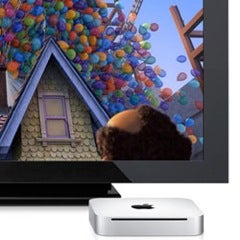 Apple on Tuesday introduced an even smaller version of the Mac mini, with an HDMI port, an SD card reader, and more graphics and processing power. The new Mac mini is only 1.4-inches tall and rocks a unibody aluminium enclosure, making it a potential match to your HDTV in the living room.
Inside The New Mac mini
Starting at $699, the new Mac mini comes with 2GB of RAM (supports up to 8GB) and a 320GB hard disk (up to 500GB). Graphics power comes from an NVIDIA GeForce 320M GPU (as found in lower-end MacBook and MacBook Pro laptops).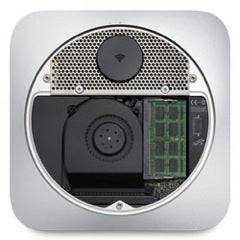 The processor on the new Mac mini also received a speed boost. You can choose between a 2.4-GHz Intel Core 2 Duo processor and a 2.66-GHz version. The new standard Mac mini comes with an Apple 8X SuperDrive (burn/read DVDs and CDs).
If you don't use optical discs anymore, you can opt for a Mac mini server model, which comes in at $999 with the 2.66-GHz processor, 4GB of RAM, and two 500GB hard disk drives (you lose the SuperDrive bay to the second HDD).
Adding to the already small size of the new Mac mini (7.7 x 7.7 x 1.4-inches), the computer has the power brick built in, so you won't get that pesky heavy attachment to the power cord anymore. It weighs 3 pounds, and you can access the panel underneath the computer to add more RAM memory.
Ready For The Living Room
What makes the new Mac mini a good choice for a living room computer is the new HDMI port at the back. You can connect it to any modern HDTV (video and audio are driven through the HDMI port), with resolutions up to 1080p (1920 by 1200 pixels).

There is also a mini DisplayPort to hook it up to an Apple display (up to 2560 by 1600 pixels), and if you have a separate sound system, you can use the audio out 3.5mm jack (no real surround sound here, unfortunately) for your home cinema.
The new Mac mini has four USB 2.0 ports and a FireWire 800 port. The mini adds an SD card slot, so you can easily pop in the card from your camera to download pictures or video from a camcorder.
To play nice with your wireless devices, the refreshed Mac mini comes with Wi-Fi built in (including 802.11n) and Bluetooth, and you also get an Ethernet port.
Unfortunately, there is no Apple Remote included in the box with the new Mac mini, so you will have to shell out another $19 for it. For TV capabilities on the Mac mini you can add a USB tuner, like the EyeTV Hybrid for $149, or install Understudy (Hulu and Neflix in FrontRow) to complement the built-in Apple Front Row, and you got yourself a complete multimedia center for less than $1,000.
Do you think the new Mac mini is good alternative for a living room computer? What other features are missing? Sound off in the comments.