Tuesday is iPhone 4 pre-order day, the day when forward-thinking iPhone fans can reserve a device for pick-up at an Apple Store or home delivery on Thursday, June 24. At the time of this writing, Apple's online store was slow to load and at times unavailable — presumably due to a high volume of iPhone 4 reservations. As an alternative you can also pre-order on AT&T's Website at att.com/iphone; however, there are some differences between ordering from AT&T and Apple.
So before you reserve your new device check out this quick guide to make sure you've got all the information you need to pre-order your iPhone 4.
What's the difference between pre-ordering from Apple and AT&T online?
Any current or new iPhone customer can order from either site, but each site offers different options for delivery and pick-up. With Apple you can choose to either have your new iPhone 4 delivered to you on Thursday, June 24 or you can pick it up that same day at an Apple Store location.
AT&T is also offering June 24 delivery to your home or business, but in-store pick-ups will start at AT&T stores on Friday, June 25 — the day after the official iPhone 4 launch.
No White iPhone 4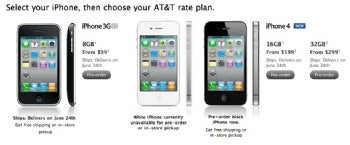 If you're hoping for a white iPhone 4 it looks like you won't be able to pre-order it from Apple or AT&T today. At the time of this writing, both sites are only taking orders for the classic black version of the latest iPhone. It's not clear why the white iPhone 4 is unavailable or whether AT&T and Apple will let you pre-order it later today. But if you really want the white model you may have to take your chances and line up on June 24 at your local Apple Store, AT&T store, Best Buy, Radio Shack or Wal-Mart .
What personal information do you need to reserve an iPhone 4?
If you're already an AT&T iPhone customer ordering from Apple's online store, you will need to provide your current wireless phone number, billing ZIP code, and the last four digits of your social security number. New iPhone users will need to provide their full name, email, home and billing addresses, social security number, date of birth and your primary place of use.
What's your upgrade eligibility?
If you grabbed an iPhone 3G at launch in 2008, then chances are your contract is up this year. (The same is true of some people who bought the iPhone 3GS at launch in 2009.) AT&T is offering all iPhone customers whose contracts expire in 2010 the chance to upgrade immediately to the iPhone 4 at subsidized rates with a new two-year contract. That means you can get the iPhone 4 for $199 (16GB) or $299 (32GB), even if your contract doesn't expire until December 2010.
If you're not sure when your contract expires you can check your upgrade eligibility on Apple's Web site .
Which data plan?
If you're a current iPhone customer, you can hold on to your unlimited data plan unless you choose to add certain new wireless services to your account such as AT&T's new tethering feature.
New iPhone owners are going to have to pick one of AT&T's new tiered data plans. You can choose between the $15-a-month plan, which offers 200MB of 3G data access or the $20-a-month plan, which offers 2GB of data. You can find more detailed information about AT&T's new data rates here .
To figure out how much data they need, current iPhone users can log into their AT&T account online and check their usage. Another option is AT&T's Data Calculator , which lets you play around with usage rates to help you figure out how much data you use on a monthly or daily basis. The calculator takes you through a series of questions such as how many emails you send in a day and how many hours of music or video you plan on streaming. Then at the bottom, a red indicator approximates how much data you'll need.
As a rough guide, AT&T says 200MB is enough data to to send and receive 1,000 e-mails (no attachments) and 150 e-mails with attachments, view 400 Web pages, post 50 photos on social media sites, and watch 20 minutes of streaming video per month.
Do you want tethering?
Another option to consider when you sign up for your new iPhone 4 is whether or not you want to use your device as a Wi-Fi hotspot for your laptop. While it's a convenient feature to have when you can't find a free Wi-Fi access point, remember you'll have to spend an extra $20 per month just for the right to tether. All your data usage will come out of your monthly data plan for the phone, and requires that you sign up for the 2GB data option, called the DataPro plan. If you use more than the 2GB monthly limit on the DataPro plan AT&T will automatically charge you an extra $10 for every 1GB used after that. And remember, if you currently have an iPhone and want to add tethering to your account you have to give up your unlimited data plan and opt for DataPro.
If you're unable to get your reservation in today, don't fret too much. A week from Thursday, the iPhone 4 will go on sale at a variety of locations in addition to the Apple Store and AT&T including select Wal-Mart, Best Buy and Radio Shack locations. When new iPhone devices launch they tend to sell out quickly so if you're not pre-ordering today you might want to scope out the best location near you to get your hands on an iPhone 4 on June 24.
Connect with Ian on Twitter (@ianpaul).