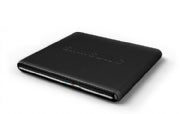 Samsung Semiconductor Monday introduced a handful of new hard disks and optical drives, including a 3.5-inch desktop PC drive which it bills as the world's fastest Blu-ray drive on the market.
The Samsung SH-B123 combo drive offers read speeds of up to 12X for Blu-ray (BD-ROM) discs, 16X for DVDs and 48X for CD-ROM, according to the company. The drive, which will be available in July, has a two-lens, two-laser-diode design which, according to Samsung, helps to provide stable reads from Blu-ray discs as well as reliable reads from and writes to CD-ROM and DVD media even at high drive speeds.
"This is the fastest Blu-ray drive in the world right now," said John Suh, director of the company's Optical Disc Drive Division Sales Team.
The Samsung SH-B123 comes with a Serial ATA interface, a 2MB buffer and an aerodynamic frame designed to reduce noise. It also comes with Samsung's Cyberlink Trutheater technology, which allows users to upscale DVDs to full HD resolution. Pricing was not immediately announced.

Also shown off at Monday's press event in New York was an ultra-slim external DVD writer, the Samsung SE-S084D, which requires no power beyond what it gets from a computer's USB port and comes in a choice of seven colors to match Samsung's notebook line. According to Samsung, the 9.5-ounce unit is 20 per cent smaller and 25 per cent lighter than comparable external DVD writers.
The drive supports 24X CD-ROM reads, 24X CD-R and CD-RW writes, 8X DVD±R recording, 5X DVD-RAM recording, 6X DVD+R and DVD-R Dual Layer recording, 8X DVD+RW recording and 6X DVD-RW recording. The $70 drive is compatible with both Macintosh and Windows computers and is available now at various retail outlets.
Samsung's 320GB Spinpoint F4 drive is the first with Samsung's new high-density memory technology, which can squeeze 640GB onto a single platter. The 7,200-RPM, SATA 3.0 Gbps drive, aimed at low-cost PCS, operates with a single head and a half platter, thus providing a less-expensive solution than similar-capacity drives with multiple platters and read heads, said a Samsung executive. The drive is available now to select computer manufacturers.