Belkin rolled out four compact devices Tuesday built to help lower energy bills by fighting "vampire" power, the electricity sucked from the grid when electronics are plugged in but not used.
A fully charged cell phone left tethered to a wall outlet, for instance, will continue to sip electricity and waste money; its warm power supply is a dead giveaway.
Belkin's $39 Conserve Valet station should charge up to four mobile devices at a time. It shuts off when the job is done and won't come to life until you flip its power switch. The Conserve Valet is about the size of a hardcover bestseller, and the USB cables stay out of sight beneath its lid.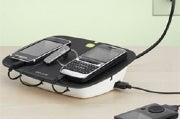 This marks the first time that a big electronics brand has targeted U.S. users with a suite of small energy-management products for consumers. Until recently, this market has largely been the territory of small companies and "green" startups, particularly in Europe.
"Our research shows that although people have a strong desire to minimize their impact to the earth, there haven't yet been tools available to provide insight about their energy use," said Belkin CEO Mark Reynoso, in a press release.
In California alone, small stores and offices pay an average $1000 each month for electricity, according to the state's Flex Your Power program. The "vampire" costs for small businesses can be tricky to measure, but various studies have found that the total amounts to at least 10 percent of annual household energy bills. And consumer electronics alone make up nearly 20 percent of a home's electricity usage, according to a June study by the Energy Center of Wisconsin.
Getting a clear picture of the energy demands at your office, one gadget at a time, is one way that your company can try to start saving.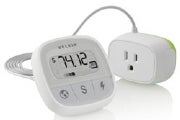 To estimate how much office hardware is costing your bottom line–and the planet–you could plug equipment into the $29 Belkin Conserve Insight. Its display spells out in dollars how much a connected appliance costs to run each month or year, and it also reports the equivalent carbon dioxide emissions. Customizable settings let you program the readout to reflect the electricity and CO2 rates in your region.
Also $29, the Belkin Conserve Smart AV is an eight-outlet power strip with a green socket set for a main appliance, and the rest for connected electronics. In theory, you could connect a desktop computer to the green socket. Once you shut down the PC for the day, the Conserve Smart AV cuts off power to the monitor and other peripherals as well.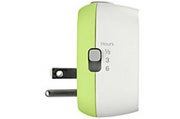 Similar to this smart surge protector is the Kill-a-Watt power strip from E3 International, which adds a backlit LCD to describe the electricity cost in dollars per outlet. It sells for around $100.
The most simple Belkin release is the $10 Conserve Socket, a power-timer outlet that plugs into a wall outlet and can be set to cut off power after 30 minutes, 3 hours, or 6 hours.