Research in Motion may have something big up its sleeves.
The company best known as RIM is said to be working on a revamped version of its BlackBerry smartphone. The device, reports suggest, will boast a touchscreen, a slide-out keyboard, and a brand new operating system that immediately brings the iPhone to mind.
The apparent similarity is no coincidence: RIM's new device, The Wall Street Journal reports, is being built specifically to better complete with Apple's prized device. The iPhone, combined with the growing number of Android-based handsets, has been chipping away at RIM's share of the mobile market for too long — and now, RIM seems ready to do something about it.
RIM's New BlackBerry: The Touchscreen Competitor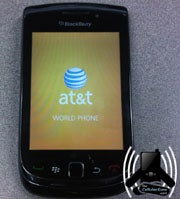 According to the latest blog-driven rumors, RIM's updated BlackBerry will be called the Torch 9800 and will debut on AT&T sometime this summer. If the various "people familiar with the device" are to be believed, the BlackBerry Torch 9800 will feature swipe-style controls, a universal search bar, and home screens with support for user-selected icons.
Other suspected specs for the new BlackBerry smartphone include 4GB of internal storage and a 5-megapixel camera. The device would likely use RIM's upcoming BlackBerry 6 OS, which features an improved Webkit browser and built-in social networking integration.
That's all fine and dandy, and no doubt a step up from RIM's previous efforts — but the one thing RIM's new BlackBerry really needs to compete is something that can't be listed on a spec sheet. What the phone needs is sexiness.
Mind you, I'm not talking about the kind of sexiness someone like Scarlett Johansson has (though that certainly couldn't hurt). No, what RIM needs is the kind of sexiness products like the iPhone and the HTC EVO 4G possess. It's a certain difficult-to-define quality: a sleekness, an allure, a je ne sais quoi that grabs your attention and evokes your desire. Again, not in the same way that Scarlett does — I hope.
RIM's BlackBerry Challenge
Here's RIM's problem: While BlackBerry is still the dominant mobile operating system in America, its numbers are steadily slipping. At the same time, the position of Apple's iPhone and phones running Google's Android operating system are steadily climbing. All combined, it doesn't add up to a good equation for the folks at RIM.
While businesses love the BlackBerry, it's never had that "X-factor" — that sexiness that makes it exciting and alluring. When most people envision the smartphone battle of the future, they think of a fight between Apple and Android. Each platform has its own style of rabid fanboy, and each platform is regularly coming out with a hot new handset that becomes an event both online and off.
BlackBerry, on the other hand, is reliable. It's secure. But it isn't sexy. As my colleague Tony Bradley articulated, RIM's previous BlackBerry releases have been "like consolation prize[s] for business professionals tied to BlackBerry who wished they could have an iPhone." Put simply, they weren't the phones people walked into a store wanting to try out.
The smartphone market is changing. Apple has its new iPhone 4; Google has its Android 2.2 upgrade and more new devices than you can count without an abacus. The competition's fierce. And unless RIM's bold new BlackBerry manages to wow the crowds and draw new users in, the company risks losing its spot as a relevant contender.
So crank up the J. Timberlake, RIM: It's time for you to bring the sexy back. As JT himself might say, go ahead — be gone with it.
When not contemplating degrees of sexiness, Contributing Editor JR Raphael writes the new Android Power blog and cracks wise at eSarcasm, his geek-humor getaway. Come say hi on Facebook: facebook.com/The.JR.Raphael