Apple's preordering system for the iPhone 4 appeared overloaded or broken on Tuesday with many complaining they were locked out from ordering the phone online in advance of its June 24 launch. Thousands of those that visited Apple's preorder page at Apple.com received the message "There was an error processing your request. Please try again later," at around 5:45pm ET. Similar error messages were being coughed up from AT&T's preordering page. Apple's customer service line 800-MYAPPLE was also experiencing problems delivering the recorded message "due to heavy call volume, we cannot take your call at this time."
Neither Apple or AT&T had any official comments on the preorder snafu as of this writing. (click image below to enlarge)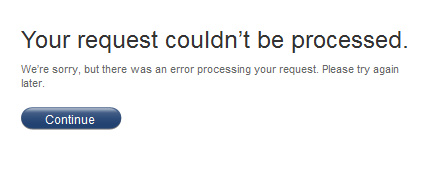 "I've been trying to preorder iPhone 4 all day and I keep getting an error! I give up!" read one tweet from MikeMarks916. "Graaaaah I just wanna preorder a dang iPhone!" wrote Twitter user Mikelightner. Some wannabe iPhone 4 users had better luck earlier in the day. "FINALLY got an iPhone 4 preorder to go through. Tried from 9AM to 1PM…. ahh AT&T. How you never fail to fail me," tweeted Currahee2100.
Those that decided to go the direct route, and call a local AT&T store to preorder an iPhone 4, didn't fare much better. Some iPhone 4 hunters have said that the ordering systems at AT&T retail stores appeared down as well, leaving some staff to imprinting credit cards and jotting names the old fashion way – on a piece of paper.
Another common complaint heard is that preorders are only being taken for black phones while white ones aren't available for preorder at all. White iPhone 4, it should be noted, were always slated to be first available only later this summer.
Some unconfirmed reports claim that the problem seems to be mostly on AT&T's end. Gizmodo, in fact, is reporting that a bug in the ordering system may be exposing private information from AT&T users.
The preorder disaster is another black eye for AT&T, which recently exposed the email addresses of more than 100,000 buyers through a website bug. The breach was so serious that the FBI is currently investigating the situation.
The timing is unfortunate for another reason as well: Apple unveiled its Apple Store app today, ironically meant to make it easier to order Apple products like the iPhone, iPad and Mac computers from an iPhone.