Despite AT&T's phenomenal website flop Tuesday morning, the Apple iPhone 4 has officially sold out. As Boy Genius Report reported, and Engadget confirmed, AT&T sold out of the iPhone 4 around 1:30 p.m. PDT Tuesday.
AT&T confirmed to Engadget that "as of Tuesday afternoon, customers who preorder the iPhone 4 moving forward will receive their device on June 25 or later, depending on when the order is placed."
Apple has also sold out of its initial pre-order for the iPhone 4–pre-orders placed on the Apple website now won't ship until July 2.
If you were one of the lucky customers to log on before Tuesday afternoon, however, you weren't necessarily greeted with a quick pre-order process–rather, AT&T's website had a slew of technical issues that resulted in an inability to process orders, and the exposure of private information.
A number of customers were faced with an error message: "There was a problem with your request. We're sorry, but we are experiencing a system error that prevents us from completing your request." Apple's new retail application, which was introduced Tuesday morning for the sole purpose of making iPhone 4 pre-orders easier, also failed, freezing on the "Processing" screen and eventually crashing.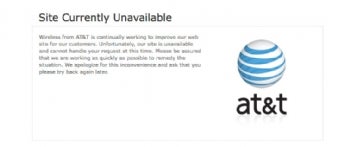 Calling Apple's hotline wasn't any better–the lines were so clogged with disgruntled customers that Apple began rejecting callers from its 1-800 number. According to AppleInsider, customers began hearing a recorded message from the Cupertino company's hotline that said: "Thank you for calling Apple. Due to extremely high call volumes, we are unable to answer your call at this time. We apologize for the inconvenience. Please try your call again later. We appreciate your business and look forward to serving you in the future."
Customers who had the time and resources to make a trek to their local AT&T retailer found the situation unimproved. AT&T retailers couldn't access the ordering system either, so AT&T representatives took down customers' information (including credit card numbers) to reserve them a spot in line–that's right, credit card info just to have a spot in another line–on Thursday, June 24, when the iPhone 4 officially hits stores.
AT&T's inability to process orders was the least of its issues, however. According to Gizmodo, AT&T's website ended up displaying the private information of a number of customers during the pre-ordering process. An AT&T insider told Gizmodo that this "bug" was due to a "major fraud update that went wrong." According to Gizmodo, there have been at least three accounted cases–and numerous reader cases–where customers trying to log into their AT&T account ended up being taken to another user's AT&T account.
In other words, private information–addresses, phone calls, bills, etc.–was being displayed to completely random people. It's unclear as to whether the compromised accounts belonged only to other people trying to pre-order and iPhone 4, or to random AT&T customers.
This report of breached privacy comes just a week after AT&T's now-infamous iPad security issue, in which 144,000 iPad users' private email addresses were exposed.
At the time of this post, neither AT&T nor Apple has made any public statements regarding the iPhone 4 ordering catastrophe.
At the end of the day, though, it looks like it didn't really matter–because both companies managed to completely sell out of the iPhone 4. Let's hope pick-up day–June 24–goes a little bit smoother.