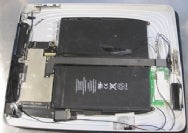 Verizon on the iPad? Sort of. In an effort to improve the iPad's mobile data connection one hacker modded an iPad 3G to work with Verizon's network.
The modder in question was not happy with AT&T's network, which has come under fire recently for a number of reasons. To perform the hack, the modder removed the device's internal 3G chip, and replaced it with internals from Verizon's MiFi mobile broadband hotspot device.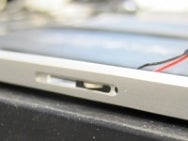 Sadly, this hack is a pricey one: it requires a 3G iPad, which starts from $629, since the Verizon MiFi needs to connect to the iPad's 3G components. It makes more financial sense to buy a Wi-Fi iPad to use with a MiFi, but this hack has one nice extra: a switch. The modder put a simple $2 switch where the iPad's Micro SIM slot normally is, allowing the MiFi to be turned off at the flick of a switch.
So is this hack worth your time, soldering, wiring, warranty and effort? This modder seems to think so. Their iPad, when connected to Verizon's MiFi, now achieves download speeds of 1.1 megabits per second, an obvious improvement on the 193kbps connection AT&T's 3G connection was delivering in this hackers area.
Be sure to read more on the hacking process and see more images of the mod in action.

[Via Hack A Day]
Follow Chris Brandrick and GeekTech on Twitter.