Apple has pushed back the delivery date for iPhone 4 advance sales even more. The U.S. Apple Store is now showing that iPhone 4 pre-orders will ship by July 14, a 12-day delay to the original postponed delivery date of July 2.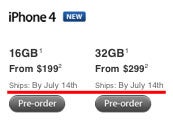 Apple is having trouble fulfilling the surge of pre-orders that it began taking on June 15, noting in a statement on Wednesday that it has already sold more than 600,000 iPhone 4s.
Pre-ordering an iPhone 4 is not easy job, however. First off, AT&T suspended iPhone 4 pre-orders on Wednesday, only a day after its Web site was overwhelmed with demand from customers.
AT&T's surge of interest didn't just come from new customers, but also from current customers. AT&T extended the new iPhone 4 customer pricing to those whose iPhone contracts expire at any point this year, thus making them eligible for discounted prices starting at $199 (with a refreshed two-year contract).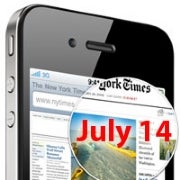 AT&T's servers couldn't cope with the demand, and crashed early on Tuesday, taking down with them the iPhone 4 pre-ordering system on Apple's own Web site as well. In this process, some reported a glitch that exposed some customers' personal information to other users. AT&T said it was not able to replicate the issue on its end.
Afraid of the online ordering problems, many have turned to good old-fashioned brick and mortar stores, where long queues formed both on Tuesday and Wednesday.
That didn't last long either, as Apple confirmed in a statement "many customers were turned away or abandoned the process in frustration. We apologize to everyone who encountered difficulties, and hope that they will try again or visit an Apple or carrier store once the iPhone 4 is in stock."
If you didn't manage to pre-order an iPhone, but you still want one on launch day (Thursday, June 24), there is still hope. Apple is expected to stock a limited number of devices at its own stores on the day, and Radio Shack, Wal-Mart, and Best Buy will also carry the iPhone 4 on launch day.
iPhone 4 32GB Black Cell Phone – AT&T
Price When Reviewed:
$599
iPhone 4 16GB Black Cell Phone – AT&T