You've got data. You've got a CD, DVD, or Blu-Ray burner in your computer. How do you get the one to the other? Astroburn Pro (20 Euros) offers an inexpensive, easy-to-use solution.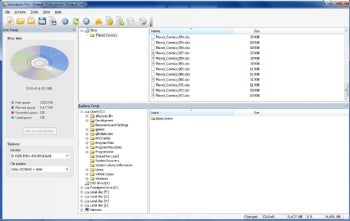 Astroburn Pro features an intuitive interface that follows standard Windows guidelines. At the simplest level, you merely insert a blank disk, then create whatever structure you wish, then drag-and-drop files, then go. This is extremely easy for anyone familiar with basic Windows operations and interface conventions. The process includes options to verify after burn, or to delete the source files once the burn is done, which can be a nice timesaver.
You can save an Astroburn project as a separate file, so you do not need to recreate it if you need to make a second copy. This is useful for anything you plan to distribute, such as a program and associated documentation–whenever someone needs a copy, just fire up the project and burn again.
Astroburn also allows disk imaging and copying. This is another feature useful for making multiple copies, especially of disks intended as boot or install disks, such as Linux distributions. Several formats are supported, including ISO and MDX.
I do have one major issue. Astroburn Pro has no local documentation–to read the documentation, you must have an active Internet connection. Since Astroburn is locally installed and doesn't rely on the Internet for its functionality, this is an odd choice on the developer's part.
At 20 Euros ($25 as of 6/17/10), Astroburn Pro is a tad on the high end, but may well be worth it if you regularly burn data or copy disks. The trial is time-limited but not feature-limited, and does not have constant annoying popups and reminders, so it's well worth checking out to see if you'll get your money's worth.